Textured gold finish adds new dimension to jewellery, WGC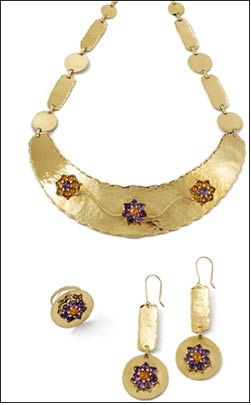 Throughout its long history, jewellery has come on its own as a distinct art form whose value is largely determined by its wearability and aesthetic qualities. Common pieces such as rings, earrings, bracelets and necklaces have often been referred to as 'micro-sculptures,' and as such, are created and appreciated based on the same tenets that govern three-dimensional art forms.

In leading jewellery shows across the globe, the tactile beauty of gold has gained special prominence as design houses revisit the merits of this unique and timeless material. Once again, goldsmiths explore possibilities of creating visual drama through creative manipulation of gold, capitalizing on its malleability and rare shimmer.

It is not only through innovation in form that gold presents themes or structures a 'feeling' but also through the introduction of new finishes, which makes wearing gold jewels a multi-sensory experience.

The most common technique in gold finishing is polishing the surface of the metal to achieve spotless glow. On its own or in combination with natural stones, gold unifies all the other elements of the jewel to present a singular expression of its wearer's character and personality. Polished gold achieves an almost ethereal effect and enhances the overall look of the jewel.

However, in recent years, there has been a marked departure from the polished gold finish. Designers and artisans have become more daring and started to develop new textures that further demonstrate the versatility of the yellow metal. Contemporary jewels benefit from the juxtaposition of a wide variety of finishes which only reinforces the multidimensionality of its materials.

Lama Al Saheb, PR and Project Manager of World Gold Council, explained: "The interplay of different textures in gold jewellery demonstrates the vast potential of the yellow metal as a creative medium. While gold is traditionally valued for its soft glow, its other properties deserve equal attention.

For instance, it is highly versatile and can look hard or soft, even fluid, depending on the finish. Goldsmiths have developed sophisticated methods in controlling the amount of light reflected by the yellow metal, allowing a particular piece to project a dramatic look that can rarely be achieved using other materials."

As metallic sheen take centre stage in the fashion and design world, gold takes on a higher profile as the material of choice in fine jewellery. The look is all about contrasts and contradictions - raw and refined, industrial and organic, hard and soft, geometry and poetry.

Notable among new textures developed by international design houses is the satin finish. The stunning effect is achieved by using delicate brushstrokes that leaves soft imprints on gold, creating a fabric-like surface. The technique can be likened to the use of sandpaper on metal, but more accurately done. This type of finish produces less reflection and shine compared to high polish and is commonly used as a background for jewels which have stones set on them.