Celebrity designer Jean creates exquisite jewellery for Tiffany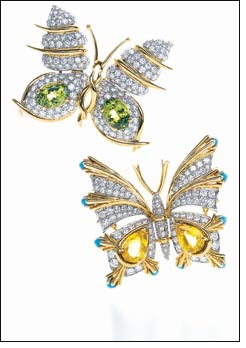 Tiffany & Co., the American style icon and jeweller of distinction pays tribute to the artistry of celebrity designer Jean Schlumberger in exquisite creations highlighting the beauty and allure of 18k gold, platinum, diamonds and colour gems such as sapphires, amethysts and rubies. The collection spreads elegant bracelets, butterfly clips and colour rings that bears the stamp of a design genius, and exudes a rich, vibrant flair.

Pegah Goldooz, General Manager of Tiffany & Co. in the UAE, commented: "Recognised as 'designer for Tiffany and artist for the world', the late Jean Schlumberger has created memorable jewels whose desirability has only increased over the years. Each of his designs is a resplendent vision of beauty that pays tribute to feminine elegance. In his collections, intrinsic detail, superb finish and rare energy fuse to spread an array of breathtaking designs for jewellery lovers."

Born in 1907, the French designer is best remembered for mounting the celebrated 128.54 carat Tiffany yellow diamond in a brooch aptly called 'Bird on a Rock." His client list included the biggest names in high society such as Jacqueline Kennedy who adored his bracelets so much that she had an entire collection of them, the Duchess of Windsor and Hollywood star Audrey Hepburn.

The most eye-catching jewels in the Schlumberger ensemble are its dramatic bracelets combining the rich hues of 18k yellow gold and paillonné enamel in gorgeous colours of golden yellow, deep blue violet and black, offering bold accented wrist wear embellished with twirling foliage patterns and gold strips, and a liberal sprinkling of diamonds in original statements of pure chic.

Jean Schlumberger's brooches and clips are equally enthralling as grandiose interpretations of one of nature's most delightful emissaries – butterflies -- crafted in a burst of rich and precious materials such as platinum and 18k gold, diamonds, peridots, blue sapphires, turquoise and a variety of other gems. Paved with handpicked diamonds of the finest kind, Schlumberger highlights every minute detail of his butterfly beauties to offer jewels of pure charm.

The collection also features coloured rings, crafted in Schlumberger's majestic style and come in 18k gold and platinum. Some of the most inspiring pieces include the dazzling Leaf ring with a superb emerald-cut 13.58-carat aquamarine and diamond pave evoking leaves hugging the central stone, the Leaf cluster ring with a splendidly cushion-shaped 12.14-carat sapphire and diamonds; and the Petals ring with a stunning oval-shaped 10.73-carat pink sapphire and diamonds.

Tiffany & Co is a pioneer in the realm of luxury with a backing of over 170 years of design excellence. Jean Schlumberger belongs to an elite group of designers who have collaborated with the luxury house to produce some of the most world's most celebrated collections. Each jewel comes wrapped in Tiffany's famous Blue Box, symbol of life's finest and joyous moments.