Global recession takes the sheen off gems & jewelry sector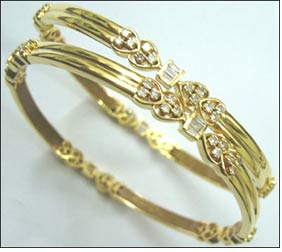 India is one of the key producers and exporters in the gems and jewellery sector, and now this industry has been adversely affected by the ongoing global recession.

Although industry registered a growth of 18 percent in the first half of the current financial year, the exports of gems and jewellery started declining in October, with almost 15 percent slide in the month.

The key reason for this slowdown is the economic recession in the US and the EU. According to official statistics, the US accounts for 35 percent of the industry's $21.9 billion exports and now that American consumers are focusing only on essential goods, jewellery has been side-tracked.

Weak trade has inturn forced the industry player to cost-cutting, and the jewellery artists and workers are the victims.

The gems and jewellery industry employs over 1.3 million workers, of which almost 50,000 have already been laid off.

Experts say that the industry is yet to face the worst and many more jobs are in danger. Government needs to understand the situation, work out the best options and act accordingly, so as to lift this industry before it deteriorates further.