Diamond Flower from Perrelet awarded Swiss Public Prize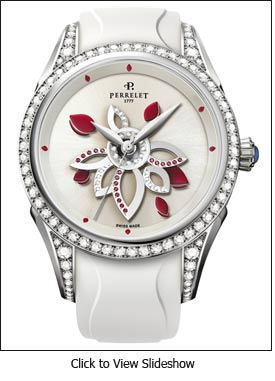 Diamond Flower - the female model of Perrelet - the most distinguished brand of exclusive timepieces founded by master watchmaker Abraham-Louis Perrelet - has been awarded the prestigious Swiss Public Prize.

Under the auspices of the Swiss magazine Montres Passion, the jury, which comprised professionals from the watchmaking sector, selected a short-list of some 40 finalists of over a 100 new models launched on the Swiss market between September 2007 and December 2008. These short-listed finalist models were presented to the public through a web-competition, where they could vote for their favourites between September 29 and October 19.

'Diamond Flower by Perrelet', which was consequently awarded the Swiss Public Prize, received the high-est number of votes. According to Perrelet, this reward is the result of a passionate team work attracting watch-lovers with a watch that embodies of savoir-faire, technical skill, good design and a daring touch of style.

Marc Bernhardt, CEO of Perrelet, enthused: "Perrelet is extremely proud to receive this award. The brand created a new category of ladies watches with Diamond Flower by bringing together two previously distinct watch universes, that of jewellery and mechanical watchmaking. The raison d'être of jewellery has always been purely aesthetical. Now Perrelet has added an additional feature and jewellery has virtually been put in motion to fulfill a mechanical purpose."

The Diamond Flower shaped piece of jewellery set on the dial is not only an eye catcher but rotates with the motion of its wearer and thus helps to wind the underlying automatic movement. This beautiful union is only made possible by using Perrelet's exclusive double rotor calibre. Both perfectly synchronised rotors (one on the back and one on the dial) provide ample power to store the motions of its wearer in the mainspring. The timepiece is thus guaranteed at all times a reliable source of power.

Tawhid Abdullah, Managing Director of Damas said: "It's an amazing watch. True to its philosophy to make readable dials, Perrelet has positioned petals on the dial so as to serve as perfect indices. For distinct female collectors and those who demand the pinnacle in exclusivity, seven unique pieces are being offered in the Rare Prestige Edition. These exceptional models haute couture have additional, extravagant settings with the rarest and most precious emeralds, sapphires, rubies and diamonds. Extravagant items for the discerned few..."

To create Diamond Flower Collection, Perrelet deliberated chose a female designer - Carmen Voegeli. Carmen is one of Perrelet's young designers. She was given the project to define the aesthetics of the Dia-mond Flower Collection. She virtually locked herself away for several months to work on this project. Her work is truly the combination of many hours of work and an intuitive, female way of creating a design made for women. This fact is perhaps not a first, but still a relatively rare occurrence in watch design. After all, who is better suited to meet the desires and wishes of today's women, than a talented lady designer?