'A Playground of Dreams' for Spring/Summer 2009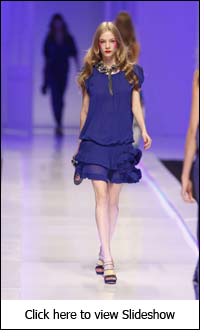 MANGO presented the new trends for the Spring/Summer season '09 in the Pabellón Italiano on Montjuïc mountain, Barcelona. A Playground of dreams is the name given to the collection, which has ranges for both men and women for the coming season.

The collection, inspired by nature and the modern landscape, creates innovative, architectural, urban, clean-cut silhouettes, in which masculine clothes are of major importance, combined with lines that are clearly inspired by the eighties. This season, trousers are the key garment, and they will dominate the looks of the season, with high waists and as carrot pants. Watery blues, pure whites, flesh tones, grey shadows and mother-of-pearl pinks are combined with fluorescent tones of lime green, orange and pink.

For daytime wear, voluminous silhouettes are seen in exaggerated sleeves, wrap-around items, trousers and pinafores. Elsewhere, rectangular and oversized lines stand out in mini-dresses, tops and flowing suit jackets.

For night time, the influence of the eighties is clear in one-shoulder mini-dresses and strapless necklines (in pastel pinks or in vibrant tones of orange and blue) combined with accessories with a touch of fluorescent colour.

We also have a line for men again this season. The new HE by MANGO collection is based around a very urban, casual look inspired by the modern dandy. Clean-cut shorts stand out, combined with suit jackets or waistcoats, wrinkled check shirts and polo shirts. The collection, which spans some 50 models, reinterprets classic elements of the male wardrobe while paying close attention to every detail, such as the washes and dyes of the garments. Shades of blue are an important part of the colour palette, as are greys and whites, with acid touches of lime, orange, electric blue and pink, sometimes decorated with checks and stripes.

Our limited edition collections are back next season too. Penélope & Mónica Cruz for MNG is a collection with a clear Japanese influence in the shapes and the prints. Flowing, wrap-around garments such as the kimono or printed pinafores, in which the sisters' particular taste for all things vintage is clear, stand out. These are accompanied by 1970s-style suits and sexy mini-dresses for those special occasions.

Sandrina Fasoli, one half of the winning duo of the first El Botón-MANGO Fashion Awards, presents the collection that she has designed for the brand, in which her unique, innocent take on femininity is on display. Sandrina Fasoli for MANGO consists of 11 very feminine items in which pastel colours such as lavender, antique rose and mist mixed with black are the main tones. Baggy silhouettes stand out, given movement by gathers and folds in very light fabrics such as silk and chiffon, together with garments that play with elements of the traditional smoking jacket, and asymmetrical shapes.

The renowned U.S. designer Adam Lippes has also created two collections for men and women, each consisting of around 20 models which are clearly inspired by the 1970s look. For women, with the label Adam for MANGO the designer presents a very urban collection that combines elements for the daytime and for special occasions, with a touch of the "Halston" look, long dresses, hand-printed patterns with irregular finishes, degradé stripes with sequins, and sack and wrap-around shapes.