VF anticipates 2009 revenues to decline slightly versus 2008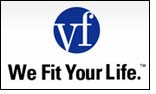 VF Corporation provided an update on fourth quarter guidance and initial comments regarding 2009. Also announced were aggressive cost reduction actions designed to enable VF to successfully withstand a global recessionary environment in 2009.

2008 will mark VF's sixth consecutive year of record revenues and another year of strong earnings. However, revenues and earnings in the fourth quarter were affected by the continued deceleration in consumer spending resulting from the global economic slowdown. As a result, fourth quarter revenues are now expected to decline approximately 2% from prior year levels, including a negative 2% impact from foreign currency translation.

Aggressive actions are being taken to address the uncertainty posed by current economic conditions and to protect our future profitability. Cost reduction actions have been initiated that should result in annualized savings of approximately $100 million, beginning in 2009. These actions will result in a charge to fourth quarter 2008 earnings of approximately $42 million, or $.30 per share.

Excluding this charge, fourth quarter earnings are expected to range between $1.30 and $1.35 per share, a decline of 7 to 11% from the $1.46 per share reported in the fourth quarter of 2007. On a reported basis, including the charge, fourth quarter earnings should be $1.00 to $1.05 per share. For the full year 2008, revenues are expected to rise about 6%. Including the aforementioned $.30 charge, earnings per share are expected to be about flat compared with 2007 levels. Excluding the charge, earnings per share would be up approximately 5 to 6%.

"VF is well-positioned to weather this difficult environment due to our strong brands and our long history of disciplined financial and balance sheet management," said Eric Wiseman, Chairman and Chief Executive Officer. "We have the flexibility to respond quickly to changing market conditions to protect our profitability and competitive position. We have built a resilient business model that provides us with tremendous diversity across product categories, channels of distribution and geographies. Most importantly, we have brands and businesses that are healthy and continue to have excellent prospects for long-term success."

VF's balance sheet and liquidity remain strong. Cash on the balance sheet at year-end should approximate $350 million and no long-term debt repayments are due until October 2010. In addition, $1.3 billion is available in lines of credit. 2008 should mark another year of strong cash flow from operations of approximately $650 million.

2009 Preliminary Guidance
The current environment presents us with two additional challenges that are not representative of VF's fundamental business performance: an increase in pension expense levels and the impact of a stronger dollar in foreign currency translation compared with 2008. In 2009 we anticipate an increase in pension expense stemming from the sharp decline in global securities markets in 2008 of approximately $90 million, which is expected to negatively impact 2009 earnings by about $.50 per share. In addition, the impact of foreign currency translation is expected to reduce revenues by 2% from 2008 levels and negatively impact 2009 earnings by approximately $.20 per share.