HSBC Colombo Fashion Week 2009 begins from Feb 19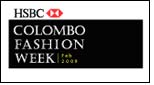 HSBC Colombo Fashion Week 2009 takes another step forward in its long term plan to uplift the Sri Lankan fashion industry. Unlike other fashion events, these shows go beyond entertainment and celebrity value to deliver upon a far more significant intent.

HSBC CFW 2009 is being held in association with Taj Samudra, the host hotel for the 14 Sri Lankan designers and 7 international designers whose collections will be seen on the 19th,20th and 21st February by an exclusive audience of invitees only.

Sri Lanka Tourism Promotion Bureau joins hands this year with CFW as a destination host, creating a strategic partnership that will work towards exploring opportunities for Sri Lanka as a destination.

The collections this year will be ready for retail orders, while Sri Lankan collections will find prominent spaces at well-known Sri Lankan retail stores.

The newcomers to the show this year are Kanchana, Sarani, Charani, LICC and another 4 collections which will be unveiled at the event. The other Sri Lankan designers who will be presenting are Prabath, Middle Finger, Yoland Aluvihare, Sonali White, Asanga and Darshi Keertisena.

"We aim to complete the cycle with our Sri Lankan designers, assisting them to take their designs beyond the ramp; to begin designing as per trends, and with the end consumer in mind. This results in attracting retailers to their garments, for them to reach that fashion customer. It completes the commercial infrastructure and thereby allows them to develop as designers and sustain themselves." says Ajai Vir Singh, Founder of HSBC Colombo Fashion Week.

"Fashion industries in South Asia have made notable progress and we need to start by keeping pace with them and then moving ahead. This is why it is important to invite the international designers to be a part", he added by saying.

With seven respected designers from Pakistan, Bangladesh and India being invited to present their collections, designers and audiences alike are sure to be inspired by all that is available from South Asia, as well as recognize the consumer value and relevance to both the local and world market. The interest shown by the designers is evidence of their confidence in the success of the event.

Raghuvendra Rathore from Jodhpur, India, worked with Donna Karan, Oscar de la Renta and Bill Blass before becoming known for his timeless style, extraordinarily tailored bandhgalas and for contemporizing the Jodhpur trousers.

Rizwan Beyg from Pakistan was named 'One of the 100 most influential Asians' by Ahlan, a Dubai lifestyle magazine. His high profile clients include HRH the late Princess Diana, HRH Princess Sarvath of Jordan and Jemima Khan and his collections have graced the most prestigious catwalks around the world.

Bibi Russell from Bangladesh comes to Colombo fresh from successful shows in Madrid, Paris and Milan. Her Spring / Summer '09 collection was created especially for her return to HSBC Colombo Fashion Week. A global UNESCO ambassador, Bibi is respected worldwide for her 'Fashion for Development' programme.