Luxury goods continue to fly off the shelves at Bride Show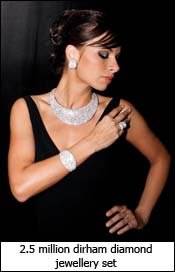 A 2.5 million dirham diamond jewellery set has got bridal pulses racing since it was modelled on the catwalk at The Bride Show Abu Dhabi.

Designed by local company Shattaf Jewellery, the set comprises earrings, necklace, bracelet and a ring, which includes glittering diamonds sourced from Hong Kong, and was created by one of Shattaf's in-house designers. Enquiries from brides-to-be have flooded in to the exhibition stand at the bridal extravaganza since the catwalk show on the opening day.

Luxury goods are evidently still top of the agenda for brides in Abu Dhabi, where the term 'credit crunch' simply doesn't exist. Space & Flower, a high end floral design business, has launched a new arm to their brand, the eponymous Olivier Dolz, which provides personalised design services for weddings and events, and has reported an unprecedented response at the exhibition.

"We are offering more than table decorations and flower bouquets; we help a bride tell a story through the entire design of her wedding," said Oliver Dolz, one half of the husband and wife team from France who are behind the growing company. "Oliver Dolz provides an entirely personalised service; one which grows with our clients, from their engagement to wedding to first anniversary right through to their children's birthdays and weddings".

"I am an international designer, as are most of our 20-strong staff, and my passion for floral art is driven by pushing boundaries, creating exquisite works of art which will make a wedding or event unforgettable. My goal is to create an experience for each bride and client that has never been seen before".

Space & Flower has presented another awe-inspiring exhibition space, following on from their success at The Bride Shows in Abu Dhabi and Dubai in 2008. The company, which boasts corporate clients such as The Address and The Palace hotels in Downtown Burj Dubai, has even further expansion plans which will be announced in April at The Bride Show Dubai.

"We knew this year was going to be interesting to watch because of the global climate, but so far, exhibitors have actually reported huge interest and profitable sales," said Daphne Cota, Exhibition Manager for The Bride Show. "It seems Abu Dhabi continues to bask in luxury and the wedding industry in the region is as strong as ever.

"Visitors to the event have an incredibly high disposable income and often they seek the most expensive products and services to ensure their wedding celebrations stand out from the crowd. The 2.5 million dirham diamond jewellery set and the haute couture flowers from Olivier Dolz are indicative of the kind of products and services in high demand".

The third day of The Bride Show Abu Dhabi was the busiest yet as two of the most eagerly anticipated fashion shows hit the catwalk. Cecile, the German retailer, sent models down the catwalk in more designs by haute couture names such as Valentino, Elie Saab and Christian Lacroix, following on from their successful opening day show.