Wolverine achieves record revenue of $1.221 bn for full fiscal year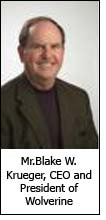 Wolverine World Wide Inc. reported record sales and earnings per share for the fiscal year ended January 3, 2009, the Company's eighth consecutive year of both record revenue and earnings per share.

The Company achieved record revenue of $1.221 billion for the full fiscal year, a 1.8% increase over prior-year revenue of $1.199 billion. Full-year earnings were $1.90 per fully diluted share, up 11.8% from $1.70 per share for the same period of 2007. Revenue totaled $346.1 million in the fourth quarter, a 3.2% decrease from revenue of $357.4 million in the prior year. Foreign exchange had a negative impact on revenue growth in the quarter of 3.3%. Fully diluted earnings per share in the fourth quarter were $0.49, equal to the $0.49 per share reported in the prior year's fourth quarter.

According to Blake W. Krueger, the Company's CEO and President, "We are very pleased to report another record year of revenue and earnings per share. Our team's rigorous execution of our multi-brand, multi-country, and multi-distribution channel business model enabled us to post solid results even in these challenging economic times.

"The Outdoor Group, Heritage Brands Group and the Wolverine Footwear Group each posted revenue increases in the fiscal year, with the Outdoor Group and the Heritage Brands Group being the two most significant contributors to the Company's profit improvement for the full year. Despite foreign exchange headwinds attributed to a strengthening U.S. dollar, two of our four major branded operating groups delivered revenue gains in the fourth quarter, and two groups also posted profit increases."

Don Grimes, the Company's Chief Financial Officer, commented, "Fourth quarter gross margin of 38.5% was flat, with the prior-year and full-year gross margin improved 40 basis points from the prior year, to 39.8% - strong performance given the pressure from midyear product & transportation cost increases. Operating margin for the full year was essentially flat with the prior year.

"Accounts receivable decreased 6.7% at year-end on a reported 3.2% decrease in fourth quarter revenue, an excellent achievement in an increasingly difficult collections environment. After six consecutive quarters of year-over-year inventory reductions, inventory at year end was up approximately $31 million, or 18.6%, over the prior year. This increase was driven by the strategic decision to make pre-buys of core product in the fourth quarter prior to 2009 cost increases, higher product costs, and the timing of spring inventory receipts, which fell into fiscal 2008 due to the 53rd week in the fiscal year. Much of the incremental inventory represents carry-over product, with most of the increase in the Merrell brand."

Mr. Grimes concluded, "Our solid operating results generated $93.5 million of cash from operating activities for the full year. The Company ended 2008 with $89.5 million of cash on hand and interest-bearing debt of $59.5 million, for a net cash position of $30.0 million. We believe that our strong balance sheet represents a competitive advantage to the Company as we navigate through these uncertain times."