LVMH posts 4% revenue growth in 2008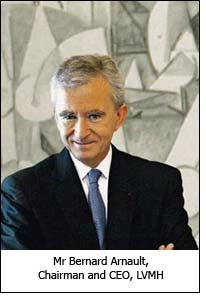 LVMH Moët Hennessy Louis Vuitton, the world's leading luxury products group, recorded revenue of 17.2 billion Euros in 2008, an increase of 4%. Organic revenue grew 7% for the year.

In the fourth quarter, reported revenue was 5.2 billion Euros, an increase of 4%.

Profit from recurring operations rose by 2% to 3 628 million Euros. This performance, achieved in the current economic environment, is even more noteworthy when compared to the Group's strong performance in 2007. The negative exchange rate impact was again high this year, particularly in the first half. At constant exchange rates, profit from recurring operations increased by 6% in 2008.

Group share of net profit was stable compared to 2007 and came to 2 026 million Euros.

Mr Bernard Arnault, Chairman and CEO of LVMH, said: "The 2008 results demonstrate the exceptional reactivity of our organization in this period of economic crisis. The Group has always emerged stronger from previous economic downturns thanks to the dynamic innovation of its brands, the quality of its products and the effectiveness of its teams. LVMH approaches the challenges and the opportunities of 2009 with confidence and determination and has set the objective of increasing its leadership position in the worldwide luxury goods sector."

Fashion & Leather Goods: outstanding performance and strengthened leadership of Louis Vuitton
Fashion & Leather Goods recorded 10% organic revenue growth in 2008. Profit from recurring operations was 1 927 million Euros. Louis Vuitton recorded double-digit organic revenue growth in 2008, accompanied by exceptional profitability. The brand once again showed its powerful creativity with new, highly successful additions to its traditional lines and the success of its new canvas, Damier Graphite. A new, very colorful, collection, inspired by a previous collaboration between Marc Jacobs and Stephen Sprouse, has been a great success at the beginning of this year. Fendi performed well, driven by the continued success of the Baguette handbag and its leather goods line Selleria. Donna Karan and Marc Jacobs also proved resilient in the difficult environment at the end of the year.

Perfumes & Cosmetics: market share gains and improved profitability
Perfumes & Cosmetics registered organic revenue growth of 8% in 2008. Profit from recurring operations reached 290 million Euros. The current operating margin reached 10%. Christian Dior continued to win market share. The vitality of its star perfume, J'Adore, and the success of Dior Homme Sport, have contributed to the brand's strong momentum. Make-up is growing fast and has benefited from the success of the Dior Addict and Diorshow lines. The excellent performance of Guerlain was supported by the successful launches of the masculine perfume Guerlain Homme and Le 2 mascara. The principal drivers of Givenchy's growth were the continued progress of Very Irresistible, the launch of the masculine fragrance Play and the new mascara Phenomen'Eyes. Benefit enjoyed rapid growth in China and confirmed its worldwide success.