BUBEN&ZORWEG launches Noble Design collection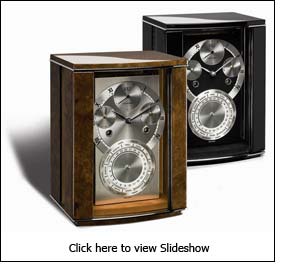 BUBEN&ZORWEG, creators of exclusive watch winders, luxurious 'Objects of time' and fine mechanical clocks, delights lovers of fine timepieces with its unique masterpieces of craftsmanship - each defined by its own exclusive character. Noble design in harmony with compelling innovation, selected materials and perfect workmanship are a convincing combination that both fulfill and exceed their customers´ highest expectations.

Passionate lovers of fine timepieces value the House of BUBEN&ZORWEG because of its uncompromising approach to perfection. The company continues to boldly develop innovation and creativity into compelling concepts. Decisiveness lies at the heart of luxurious masterpieces of craftsmanship so coveted and desired by aficionados around the world. The brand is evolving from a well-kept secret among passionate lovers of fine timepieces to the epitome for luxury, innovation and design in the world of exclusive chronometers.

The brand is continuously working on extending the boundaries of feasibility. Be it the realisation of a sophisticated double tourbillon complication for a limited series table clock – as with the Ellipse Grand Revers Double Tourbillon, Watch Winders or of creations such as Solitaire or Collector's Salon, that lift the presentation of valuable watch collections to new heights. These masterpieces clearly show how well the company understands and shares the passion of lovers of fine timepieces! They also signify a dedication to boldly break new ground in the creation of particularly luxurious masterpieces for people with superior demands.

The design combines dignified classic with clear-cut contemporary elements. An uncompromising commitment to selected materials and exquisite workmanship make masterpieces from BUBEN&ZORWEG to unique and luxurious objets d'art. It all started when school friends Harald Buben and Christian Zörweg began setting new standards on the market for watch winders shortly after founding the company in 1995. Continuous further development and innovation soon enabled the presentation of the world's smallest, largest and most exclusive watch winders.

In 1996 the brand presented its first ever Time Mover which set new standards in the watch winder marketplace combining design and technology of the highest standard for passionate lovers of fine timepieces and development and production in cooperation with renowned German company Elma. Every year the brand has been adding luxurious masterpieces to its prestigious list of products.

Recently Hurun Report magazine, firmly established on the Chinese market since 1999, honoured the House of BUBEN&ZORWEG with a very special the 'Best of the Best' Award in the 'Jewellery, Watches and Fashion' category. The magazine presents the award each year in eight different categories and is given to companies whose products sympolise excellence.

In 2001 BUBEN&ZORWEG introduced the world's smallest watch winder:Mobile and started expanding its product range by 2003 when it introduced the Evolution and Metropolitan models. The same year it manufactured the world's largest watch winder: Collector 64. Finest craftsmanship 'Made in Germany' make the breath-taking watch winder for 64 watches a compelling and enticing masterpiece.