Schwarzkopf unveils range of Hair Spa Therapies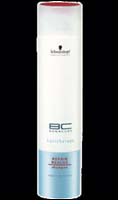 Schwarzkopf Professional, the leader in the hair-care industry, unveiled their range of Hair Spa therapies for the perfect hair nourishment & care in the city today. Najeeb Ur Rehman, National Technical Head – Schwarzkopf Professional was there along with the guest speaker, Samantha Kochhar ,Creative Technical Director , Pivot Point, to demonstrate how the Schwarzkopf Professional Spas' rise above all other hair related treatments and proves to be the most effective and intense one by strengthening the hair follicles, and revitalizing the roots.

Also present at the launch were well known celebrity stylists like: Asif Rajan from Asif the Salon, Coleen Khan from Coleen's Hair & Beauty Salon, Sonali Mirchandani, Sandhya from Salon Exqusie, Osh & Adhuna from B-Blunt & Agnes from Butterfly Pond to name a few.

Hair, which has always been seen as a reflection of one's own personality and style gets majorly hampered & damaged by various environmental, hormonal and external factors. With the newly introduced Schwarzkopf Professional Hair spa which has 7 different therapies in-built based on the hair texture and specific hair problems – bid your hair worries goodbye! These treatments help build the strength of each hair follicle giving the hair a stronger and a more bouncy look.

Najeeb Ur Rehman is an absolute pro in the hair realm and specializes in creative and corrective hair coloring, cutting & texturizing. With over a decade in the world of hair fashion and grooming and numerous awards to his name, Najeeb believes in creating hairstyles which are attractive and showcase ones attitude and individual personality with great flair.

He observed that "Hair fashion has leap frogged into a whole different dimension today. Through the Schwarzkopf Professional Spa Therapies, we have imbibed all the essential ingredients for the chic & extravagant looks delivering desirable, wearable & gorgeous hair styles."

Samantha Kochhar, Creative Technical Director – Pivot Point said, "The Schwarzkopf Professional Hair Spa is a one stop solution that helps address specific hair problems with tailor made massage techniques. To me the ingredients used in the products are the hero. I swear by it!"

Asif Rajan – the Asif Salon said, "No other company has this extensive a spa range as Schwarzkopf Professional. It truly helps me personalize the therapy and give my clients something that suits individual needs. The massage techniques were brilliant and would definitely floor my patrons."

Speaking on the launch, Murali Sundar, Country Manager – Schwarzkopf Professional India said, "The Hair Spas launched employs the latest in technology to give our patrons the best. These let an individual emerge revitalized and ready to reclaim life in a manner never experienced before.

I feel each therapy is an indulgence that is one of its kinds with the use of luxurious products from the Bonacure range and the combined use of an exclusive and unique range of massage techniques that have been tailor made and designed specially to make the spa much more effective."