Successful 'back to basics'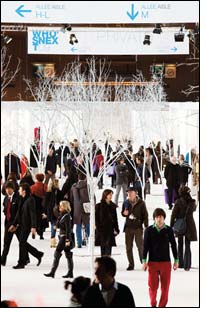 From January 29th to February 1st 2009, Porte de Versailles staged fashion and accessory trade shows WHO'S NEXT and PREMIERE CLASSE, with a selection of 1,130 exhibitors (660 for WHO'S NEXT and 470 for PREMIERE CLASSE), presenting their Fall/Winter 09-10 collections.

In spite of an exceptionally difficult economical context and a massive strike on Thursday, dreaded both by the exhibitors and WSN DEVELOPPEMNT, the organizer, there were 37,938 visitors, showing just a slight 5% drop compared with January 08's 39,916 visitors.

GOOD MOBILIZATION OF FRENCH BUYERS AND DROP IN FOREIGN ATTENDANCE:
Good news: The French are back in Parisian trade shows! Initiated in September 08, this rise was confirmed in January 09 with a 10 % rise in French attendance, i.e. 26,898 visitors vs. 24,434 in January 08.

This new interest for trade shows is due to the significant change in the retailing business, proving you can "never say never" in the world of fashion… A few years back, everybody claimed multibrand shops were going to disappear and brand shops would take over. Today, the opposite trend seems to be witnessed and multibrand shops are back on the scene, meeting the customers' expectations.

Put off by the French strikes and the severe crisis all around the world, international visitors dropped by 29 %, i.e. 11,040 foreign buyers in January 09 vs. 15,482 during the same session in 08.

The planned massive strike in France dampened the enthusiasm of foreign visitors who usually visit the trade show during the week.

However, the aisles of hall 1 were far from empty on Thursday, January 29th… WSN DEVELOPPEMENT had made arrangements to ease up the access to the trade shows by providing a greater number of VIP and Paris Capitale de la Création shuttles, offering a motorcycle-taxi service and informing visitors on the status of public transportation. As a result: the buyers who dared defy the alarming strike warnings were numerous, high-quality and deeply interested by both trade shows' offer.

A SUCCESS FOR PREMIERE CLASSE:
In these times of crisis, the trend is: back to basics. And because PREMIERE CLASSE has become the reference trade show for fashion accessories, buyers proved to be especially interested in this offer last January. Animated by a very positive energy and an renewed offer, (470 brands), the trade show welcomed visitors enthused by the great quality of the offer, interested in getting information as well as buying. The seasonal products were quite a hit, as well as the Nomad Lounges, organized this season around men's accessories, modern knitwear and semi-precious jewels. Also new this season, the Vintage Lounge was very popular, giving people the opportunity to shop for real…

WHO'S NEXT'S WOMENSWEAR OFFER VERY POPULAR:
With a reference offer, the most selective and consistent among European trade shows, WHO'S NEXT's areas devoted to womenswear, i.e. FAME, FRESH and PRIVATE, attracted more buyers than ever. The 410 brands gathered in these 3 areas met the market's expectations, stimulating the purchasing atmosphere. The exhibitors praised the high-quality buyers, also agreeing on the fact that they were more demanding than usual. Manufacturing process, style, fabrics, and price: buyers showed a new vigilance… no more impulse-buying, the economic conjuncture has an impact on behaviors, and the purchasing act has become a more reasonable one. Style made the difference in the end, as well as conceptual brands.