Design Attack with Queen Alpin to celebrate 10th anniversary next week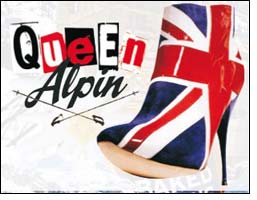 Since its inception in September 2004 Design Attack has "given birth" to various design and event settings under different mottos at GDS – International Event for Shoes & Accessories. From 13 to 15 March 2009 this trendy area will be celebrating its 10th anniversary in Hall 3. Its recipe for success is an original concept deliberately designed to stand out from mainstream presentations.

It therefore not only taps into the current mood but also looks ahead. The key feature of Design Attack is its blend of different trends and themes, extraordinary stand design, hip atmosphere, that fusion of fashion, art and music so essential to youth culture, a strong focus on the shopping experience and young, creative trendsetting exhibitors. Furthermore, the focus – besides shoes – is also on all the other accessories needed for a trendy outfit. This makes for an exciting mix of independent fashion, urban and underground streetwear including accessories and lifestyle products.

It all started with 15 exhibitors in September 2004. Back then GDS enlisted Eddi Mackowiak of E.M. Project as a "one-man" think tank to launch something new for the young segment and promote newcomers with high potential.

Design Attack saw the light of day and with it the first motto: Trash Lounge. In tune with this theme such materials as scrap, car tyres, mesh wire and scaffolding were employed. The area became a special attraction at the fair. March 2005 saw the GDS Community celebrate the second successful staging of Design Attack: "Cool as Ice". The hall concept had a completely different atmosphere yet again with a wide variety of trend and lifestyle products inspiring the buyers and exciting labels that generated new sales markets.

Marking the 100th anniversary of GDS, the area in the following season was entitled Radio Bamboo scoring a third success. What followed would have been an eldorado for Elvis: the fourth motto "Viva Las Vegas" staged the area in a glittering Las Vegas look of the 50s in spring 2006. In autumn of the same year "Mambo Italiano" brought back memories of the 60s and 70s Italian Riviera – complete with glamour, parties and the typical "dolce vita" of those days. The 6th edition of Design Attack blended idyllic Alpine landscapes with the ingredients of a refreshing trend cocktail and staged this extraordinary cross-over under the motto "Kuhba Libre".

In September 2007 visitors were captured by the Oriental charm of the fascinating Moroccan city Marrakech in the "Kaffee Oriental" area. Under the design and event heading "Moonwalk" visitors of the 2008 spring event entered a futurist science-fiction space world with neon lights and electronic sounds.

In autumn last year "Soulexpress" recreated a real metropolitan atmosphere, a "soul city" with wafts of mist, funk 'n' soul grooves and colourful disco lights. At this year's 10th edition of the Design Attack entitled "Queen Alpin" visitors and exhibitors will experience London as a chic ski resort in the Alps, drinking gin and tonic or mulled wine and ice-skating with the Queen.