Fashion Accessories Trade Show sees fewer visitors & buyers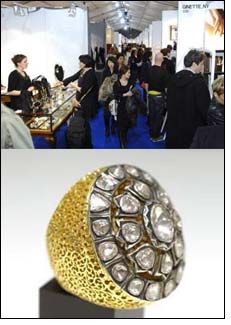 From March 6 to 9, the Jardin des Tuileries welcomed 313 designers and fashion accessory brands who presented their Fall/Winter 09-10 collections at the PREMIERE CLASSE trade fair.

Though the majority of the world's fashion trade fairs have had a visible drop in international visitors this season, PREMIERE CLASSE maintained its drawing power for foreign buyers who represented a large majority of the fair's visitors with 58% of all entries.

We note that the alarmist reports from industry analysts did not seem to affect the curiosity of the 11,220 professionals wandering the aisles, a slight 7% drop from March attendance a year ago. Visitors sought to concretize their final purchases for the season, since PREMIERE CLASSE is scheduled at the tail end of the season's trade fair calendar. The past 2 seasons have also confirmed French buyers' return to the fair, up 7%.

A REFERENCE TRADE FAIR FOR LONG-DISTANCE EXPORTING
Though foreign visitor attendance dropped 15% in relation to March 08, with 6,558 buyer visitors, we note that international buyers, especially those buying for long-distance exports, did not turn their back on PREMIERE CLASSE's offer.

The season's most impressive progression was from China, a market in full development, which continued the momentum of earlier seasons with a 30% visitor increase. Good news also from the Middle East, where a confirmed interest for PREMIERE CLASSE's offer was seen by a 20% increased attendance from countries in that region.

This season, Japan, with 1,592 visitors, remained the best represented foreign country. It overtook Italy which maintained strong attendance with 1,394 entries, or 21,2% of foreign visitors. Attendance of buyers from the United Kingdom and Germany dropped from the March 08 figures, representing this season, respectively, 7% and 6,8% of foreign visitors. Despite the difficult economic climate, 444 Americans attended PREMIERE CLASSE, 28% less than March 08. Spain and Belgium followed with 4,6% and 4,1% of foreign visitors.

We also note that retailers reduced the size of their buying contingents at the fairs. In general, instead of coming in a large group, buyers attended with a smaller team.

FRANCE CONTINUES TO MOBILIZE, PROGRESSING 7%
The economic period does not seem to make an impact on the French... On the contrary! City buyers, conscious of their clients' new needs, particularly in the Paris area, graced PREMIERE CLASSE with their presence for the 2nd consecutive season. They showed a renewed curiosity and desire for products to differentiate themselves. The 4,662 March 09 visitors represented a 7% increase over March 08, including 3,178 from Paris or the Paris region.

THE RED CARPET FOR COUTURE ACCESSORIES AND SEASONAL PRODUCTS
With the arrival of exhibitors like CHRISTIAN LACROIX, who presented his bag, jewelry and shoe collections or designers like PHILIPPE FERRANDIS, MYRIAMHASKELL or even AUGUSTINE collaborating with major couture houses, PREMIERE CLASSE uncontestably moved up in the offer's price range with an emphasis on selective exclusivity.