The Colors of Scotland is the theme of Dressed to Kilt Runway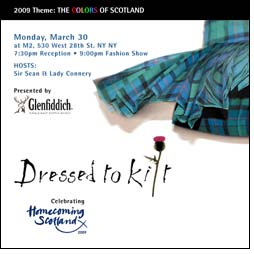 Sophisticated New Yorkers and celebrity Scots from around the globe take over the city and get "Dressed to Kilt" with Sir Sean and Lady Connery playing host of the evening's festivities. This year's Dressed to Kilt is presented by Glenfiddich and Celebrating Homecoming Scotland 2009.

The highly-anticipated event will take place on Monday, March 30 at M2 Lounge (530 West 28th Street, between 10th and 11th Avenues) in Manhattan, beginning with a cocktail reception at 7:30PM, followed by the runway presentation at 9:00PM. The theme of this year's show is The Colors of Scotland, celebrating the natural beauty and proud heritage of Scotland.

A far cry from its humble beginnings, Dressed to Kilt has evolved from a simple kilt show into the highest profile Scottish event in the United States and most prestigious Scottish fashion show in the world. From fabric and fashion to art and music, all aspects of Caledonian culture are represented at this unique celebration culminating in a fashion show like no other.

Dressed to Kilt features not only traditional Highland kilts but designer haute couture fit for royalty, showcasing the latest cutting-edge fashion from Scotland's finest young talent as well as some of the world's top designers who have embraced and incorporated "Scottishness" into their trademark styles.

"Dressed to Kilt 2009 is shaping up to be the best Dressed to Kilt ever, with more Scots and celebrity friends of Scotland participating than ever before," says event host Sir Sean Connery. "I'm looking forward to celebrating Homecoming here in New York at Dressed to Kilt and again this summer in Scotland."

Dressed to Kilt Celebrating Homecoming Scotland 2009 features designs from top fashion houses on both sides of the pond, with this year's lineup including designs from Vivienne Westwood, Vivienne Tam, Victoria's Secret, Kenley Collins ("Project Runway") 21st Century Kilts, Calzeat & Co Ltd, Chocheng, GeoffreyTailor Kilts, Glaschu Scotland, Holland & Sherry, Joey D, Lochcharron of Scotland, Michael Kaye Couture, Nicole Romano, Sandra Murray, Scott Officer, Slanj and many of Scotland's brightest up-and-coming designers.

Known for drawing A-list personalities and bold-faced names, the 2009 Dressed to Kilt fashion show features appearances by Sir Sean & Lady Connery, actor Brendan Fraser, country music star Kellie Pickler, actress Andie MacDowell, Ugly Betty co-stars Michael Urie, Ashley Jensen and Mark Indelicato, Law & Order: SVU co-stars Chris Meloni and Tamara Tunie, All My Children star Susan Lucci, The Apprentice's Donald Trump, 30 Rock's Katrina Bowden, Broadway's Shrek the Musical star Brian d'Arcy James, New York Giant Lawrence Tynes, Lipstick Jungle's Paul Blackthorne, actress & model Maggie Rizer, Scottish actor Brian Cox, Lord of the Rings star and Scottish actor Billy Boyd, Vanity Fair editor George Wayne, New York City Ballet principal dancer Tom Gold, Scottish actor Jason Flemyng, Scottish supermodel Lauren Tempany, Scottish winner of the UK equivalent of American Idol, The X Factor's Leon Jackson, reigning Miss Scotland Stephanie Willemse and socialite Hayley Bloomingdale.