TOM FORD launches its SS09 eyewear collection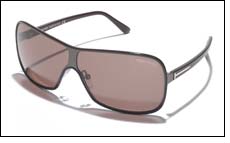 For Spring/Summer 2009, Tom Ford presents a collection of twenty-five sunglass frames for both men and women that feature his signature blend of luxurious materials, powerful design, and precise detailing.

"Eyewear packs more of an immediate punch than any other accessory, partly because of our paparazzi-crazy age, and also because it lets everybody looks instantly mysterious and sexy," says Ford. "It's worth investing in.

Today's face needs a strong, decisive frame, but just as importantly, it should also be a beautiful artifact, an object to be collected and, hopefully, owned for years."

Ford's hallmark is to take inspiration from timeless eyewear styles, then develop them with sophisticated new lines. New this season, the aviator, an iconic style for men, emerges as the Cyrille [TF 109] and Andres [TF 110], which open up the aviator by curving at the outer edges.

Their traditional, metal double-bridge at the nose is modernized by injected rims and temple tips; and the frames' varied materials include rose gold, gunmetal, light ruthenium, and striped green horn. For women, the Sandrine [TF 124] and Anais [TF 125] are rooted in the bold proportions and wide temples of 1960s sunglasses, then emboldened by "open-cut" lenses that float slightly free of their opaque frames.

Offering both rounded and square frame options, they also stand out for their sleek, perfect fit and the option of unexpected color ways like black spray with pink/brown dove grey/Bordeaux, and a special nude ivory.

A highlight of the men's eyewear collection is the James Bond 007 sunglass style [TF 108]. This exclusive Aviator frame is worn by Daniel Craig as legendary secret agent, James Bond, in the much-anticipated movie, QUANTUM OF SOLACE. TOM FORD was the tailor of choice for the movie, which will be on screens worldwide in November 2008.

"Of all the actors and characters I could dress, Daniel Craig as James Bond is the top of my list - could there be a better hero to dress than Bond?" says Ford. "He's been an icon of a certain kind of masculine style since the 60s, and has evolved through the 70s, 80s, and 90s, so it's an honor to develop his look today." The James Bond 007 style is made in both shiny and semi-matte metals with an array of colored lenses.

Other men's sunglasses this season include an update of a vintage 50s design with wider and more rounded lines [TF 126]. An ultra-modern mask frame wraps the face in acetate or metal and works equally well on women [TF 116]; two precious and fancy metal frames boast extra-luxurious fabrication for men value the most exclusive accessories [TF 113 and TF 114]; and casual-chic aviator styles in square or rounded shapes are easily wearable modern classics [TF 111 and TF 112]. Lenses run a spectrum of shades from solid and gradient green, to brown and smoke and roviex options.

The women's sunglass collection comprises fifteen head-turning silhouettes that play with shape and flatter the skin. Exaggerated proportions and sculptural lines make these frames distinctly TOM FORD, and a beautiful palette of frames, including softly shaded, light color combinations, offer a surprising sensuality. As always, the women's frames give the dramatic illusion of weight and substance, but due to the luxurious materials and expert craftsmanship, they are unexpectedly light on the face.