'Rahu Kaal' gets into your life-style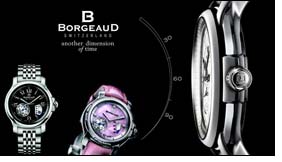 BorgeauD SA launched the world's first Swiss watch that brings the best of Swiss watch-making expertise to the service of a dimension of time from the Panchang, the Indian calendar.

In a global first, La Collection Gravitas introduces the world of horology to a daily 90-minute sequence that occurs at different times each day of the week when you are invited to Rethink, Re-assess, Rahu, Review, Reflect, Reconsider and take a Rendezvous with yourself.

The watches, which are limited in edition, were unveiled in a global premiere in Bangalore, India's watch-making capital. From the classically elegant models to the sport-chic models, BorgeauD watches for men and women are tastefully crafted and built in the region of Neuchâtel, Switzerland's legendary watch-making region. Bangalore's links to Neuchâtel, especially in watch making dates back several decades.

"This is a watch-makers watch. We have developed an entirely new mechanical complication to capture a passage of a non-sequential 90-minute time sequence which occurs everyday for seven days," said Marc Aeschbacher, who together with Chitra Subramaniam-Duella co-founded BorgeauD SA. "It is the first time in the history of watch-making that such a watch has been developed in Switzerland," he added.

A droplet or a window in the dial of the watch fills up with a colour at the start of the reflection or Rahu period and gently empties itself in real-time for 90 minutes, inviting you to take a pause or craft a sense of personal time.

"La Collection Gravitas brings the best of Switzerland and the best of India in a timepiece that is not only beautiful, but also useful," said Subramaniam-Duella. "It is a contribution from India to the understanding of time and its many messages," she added.

This Swiss collection incorporates what is known as the Rahu Kaal, a daily 90-minute window of time that appears every day of the week and that is viewed as having a profound effect on all decision-making. It is generally avoided when key decisions have to be made.

The entrepreneurs say their watches speak to a life-style and cater to a need in the world's largest free-market economy.

Mr. Subramaniam Ramadorai, the CEO and Managing Director of Tata Consultancy Services (TCS), is mentor, BorgeauD SA. The watches will be retailed in Bangalore at Helios, Titan Industries' newly-launched watch store and Ethos – Swiss Watch Studios, India's largest retailer of Swiss watches, in Bangalore, New Delhi and Gurgaon.

Inspired by the Indian calendar, the Panchang, this window of personal time, also known as the Rahu period, is a moment when activity does not cease, but time for action takes a pause.

Appreciating the many messages of the Indian calendar the Panchang is a way of life. The Panchang is based on a logic system developed through mathematical calculations that clock movement of the sun, the moon and various planets. It indicates auspicious days, months and auspicious times of the day, everyday.