Marlo & Lisa brings cool, crazy fashion trends for babies for spring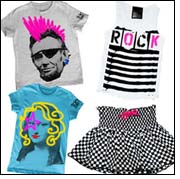 With the season change comes a change in fashion focus, from sweaters and layers to separates and sun. Marlo Hoffman and Lisa Starbuck, the fashion experts from psychobabyonline, share their cool, crazy take on the Top Five Spring Fashion Trends for babies, toddlers and kids. "The Psycho Baby take on spring trends differs from the adult clothing world in two separate but distinct ways," says Hoffman.

She continues, "Every parent knows that 'wear ability' is the first key to pulling together a wardrobe for a child. Secondly, we believe the point of children's fashion is to allow the kids to express themselves through choices. Our spring collection offers a wide breadth of choices that fit under these two parameters, but are also super stylish!" The Top Trends are: Pattern Making, 60's groove, Hip 70's inspired gear, 80's wear and Rock n Roll.

Pattern Making: Patterns abound in style choices for girls for Spring 2009. The resurgence of classic floral patterns, adorning dresses and separates for toddlers and lounge wear for baby, adds a classic American sweetness to fashion choices. Diametrically opposed to these sweet floral styles imbued with bows, ribbons and smocked tops are modern stripes and checks, reminiscent of the urban jungle, and pop club wear.

The overarching trend is pattern, whether they are subtle and classic or bold and modern, giving parents a bevy of mix-and-match options. Starbuck says, "Wearable patterns really let you set the mood for the day ahead, and give new life to the basics already in a child's closet. One patterned piece is a non-risky way to add an element of fun to the day, while the truly adventurous mix and match patterns and walk on the wild side!" Clients can shop offerings from top vendors such as Baby Nay, Micro Me, Kumquat and Mad Sky to add a bevy of patterns to their summer wardrobes.

Get groovy with 60's inspired wear: The children's tie-dye trend is taking a twist this spring with the emergence of dip-dye and batik for both boys and girls. Starbuck elaborates, "Tie dye is always popular because it is so happy and childlike. The introduction of dip-dye into popular brands such as Lemon and One Love for girls and Charlie Rocket for boys brings a more subtle sophistication to the garments, allowing them to break free from the confines of the description of 'playwear.'"

Batik offerings from Hi Ho Batik are charming shoppers of both babies and toddlers with their new for 2009 designs, completing the 60's influence on the market. The dip-dye trend seen on world's runways is adapted to the kids market with the addition of glitz, graphics and other fun design elements that retain tie-dye's sense of whimsy throughout the pieces.

Dig that 70's Style! The creative types behind many of Psycho Baby's popular boys' t-shirt and clothing lines are giving their modern take on 70's inspired graphics for radical new fashion choices taking shoppers by storm. "As a mother of three boys, I truly think that where it's at- to borrow some 70's slang- right now is to get cool new tops to update those threads for boys, and we have seen a great response from the new vintage-inspired pieces for spring," says Hoffman.