Mikimoto's pearl collections continue to captivate women world over!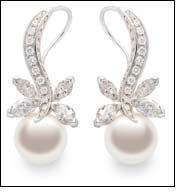 Mikimoto, the legendary pearling pioneer and renowned jeweller continues to enthrall and capture the minds and hearts of all jewellery lovers across the world with its dazzling pearls.

It was over a century ago, that its founder Kokichi Mikimoto succeeded in culturing the first pearl in the history of mankind. His dream was to adorn the necks of all women in the world with pearls. With this vision he founded Mikimoto, his eponymous Japanese empire hailed for its expertise in design and crafting techniques, while using only the best pearls of incredible luster and beauty. Today, Mikimoto is the first name when it comes to pearls. They make the most fitting gifts for any occasion and milestone, and are cherished for their sensual essence often likened to a warm embrace.

An enthralling journey
The history of the brand started in 1893 when Kokichi Mikimoto discovered the pearl cultivation process and was shortly after granted a patent by the Japanese government in 1896. He then sent artisans to Europe to master the techniques of jewellery production and design, to which he blended the superior Japanese aesthetics of form, line and workmanship to produce the distinctive originality of Mikimoto designs.

In 1899 he opened the first Mikimoto Pearl Store, Japan's first specialty pearl shop, in Tokyo's Ginza district. In 1914 he cultured the world's first Black-lipped cultured pearl. The brand's winsome product range now includes Akoya, South Sea (White and Golden) and Tahitian cultured pearls.

Mikimoto's discovery gains credence when it is seen that in times past, perfectly spherical pearls were so rare that they were almost as expensive as diamonds! It is truly Mikimoto's stupendous success that made pearls accessible everywhere, revolutionising the industry.

The cultivation process
Pearls are formed naturally when an intrusion such as a grain of sand, lodges inside an oyster's shell. The animal responds to this irritant by secreting a protective layer of nacre over it, which over a period of time turns into a pearl. Pearl culture mimics nature's process by manually inserting a fragment into healthy oysters and returning them to the sea, where nature takes over the process and after a few years gifts a precious, stunning pearl.

High standards of excellence
Impeccable standards of excellence distinguish Mikimoto's pearls, setting them apart. Its proprietary grading system is unique and based on four factors: luster, colour, shape and surface perfection of each pearl. It utilises only the top 5% of the annual harvest. Jewellers often refer to pearls as being of 'Mikimoto quality'. Its pearl collections celebrate the timeless beauty of pearls in a choice selection of gold, diamonds and semi-precious stones and its pearl strands are cherished works of art. Mikimoto's latest collections include Infinity, Dragonfly, Lybra, Sandstorm and Midnight.

Infinity – The infinity symbol is used in this latest Mikimoto collection. It features a cultured pearl encompassed by the continuous swoop of this ancient icon, creating a dynamic balance in the 3-dimensional space of its earrings, necklaces and rings, thus highlighting the beauty of its pearls in a classic setting with a twist.