Dance into the fitness groove with Reebok & Shiamak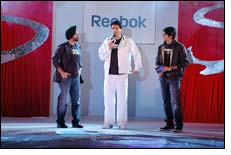 Continuing its mission of making Fitness fun, Reebok India, in association with Shiamak Davar has launched the Bollywood workout and a dazzling apparel collection both designed by Shiamak himself. Reebok has a strong history in fitness and has taken many steps towards bringing creativity and innovation to fitness.

With this association, the company added yet another innovation in fitness to its kitty. The Bollywood Workout program and the fashionable dance collection were launched on Thursday, 26th March, 2009 at 'The Ballroom' in Taj Lands End, Bandra, Mumbai amidst a star studded evening, a scintillating fashion show and a stupendous performance by Shiamak's dance troupe.

On this occasion Subhinder Singh Prem, Managing Director – Reebok said, "Contemporary India is a young nation with fitness being a necessary stimulant for a young mind and body. Bollywood is an incredible part of the Indian heritage and is like an elixir for the youth. We've partnered with the one man in the industry who can merge these two key ingredients for the youth seamlessly – Shiamak Davar.

We're happy to announce that he has successfully fused the intricacies of Bollywood moves and music with fitness techniques to arrive at a fun filled Bollywood workout. The result of our association is an Indian fun packed workout and the dazzling apparel collection inspired from the moods of dance."

He added, "Our promise to the consumer is that this workout will make them smile while they sweat. We believe that this workout offers a chance to break free from the mundane and experience the sheer joy of moving their body. It also represents a huge business opportunity for us. The Reebok Bollywood workout will be rolled out in 200 cities through 300 Shiamak dance studios, 1000 trained Reebok instructors and various Reebok affiliated gyms. We shall continue to support fitness with many such innovative measures and we really look forward to a laughing, smiling and fit India."

SHIAMAK for Reebok is a collection of exclusive dancewear designed by Shiamak Davar himself. Available in fabrics that allow you to move freely and in cutting edge designs that are very hip and funky, the 'Have Feet Will Dance' collection fits the body like your skin, giving you confidence to look great and dance your best.

It has been inspired by the energy and exuberance of dance. Reebok and Shiamak have considered men, women and kids as their target consumers. The collection includes dance pants, tanks, sweats, tees, shrugs, warmers and accessories like dance caps and many more and will be available at select Reebok stores across the country.

The Reebok Bollywood Workout utilises the grounding as well as elevation of dance exercises to shape, tone and target muscle groups which sculpt great body contour and improve fitness. Starting with a full-body warm-up and then targeting specific muscle groups in segments, this form of exercise keeps you on your toes for a fun-filled workout. The Reebok Bollywood Workout will be made available to people exclusively through the Shiamak Davar Dance Studios.