Essential Looks 111 Edition: Part 1 presents four fashion moods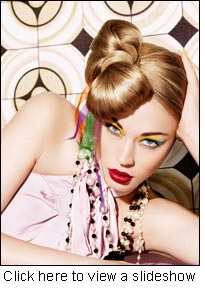 Schwarzkopf Professional, the leader in hair care, unveiled their Essential Looks "111 Edition: Part 1 Collection" at the Hyatt Regency in the city. Rick Lee and Sebastian Tan, Asian Ambassadors for Schwarzkopf Professional along with Najeeb Ur Rehman, National Technical Head , SKP was there to unveil the collection and demonstrate how the edgy styles were created.

The best looks from the Essential Looks collection over the decade of its existence were chosen and was worn by the 20 finalists of the Femina Miss India beauty pageant to pay tribute and celebrate 111 years of Schwarzkopf Professional. 8 stunning Mumbai models showcased the looks from the current collection. Also present at the occasion were well known celebrity stylists like Coleen Khan, Asif Rajan, Sandhya Chandra & Sonali Mirchandani to name a few.

ESSENTIAL LOOKS has a proven track record in translating catwalk couture into a commercial reality and is now celebrating eleven years of success. The "111 Edition: Part 1 Collection" takes its inspiration from the world of haute couture and is inspired from the fashion weeks of London, Paris, Milan and New York. The hair care giant features four distinctive hair styles this season. The last decade has established Essential Looks as a common international hair language of fashion motivated style, designed to gift hair professionals with the essence of seasonal inspiration.

Najeeb Ur Rehman, National Technical Head - Schwarzkopf Professional, is an absolute pro in the hair realm and specializes in creative and corrective hair coloring, cutting & texturizing. With over a decade in the world of hair fashion and grooming and numerous awards to his name, Najeeb believes in creating hairstyles which are attractive and showcase ones attitude and individual personality with great flair. He observed that "Hair fashion has leap frogged into a whole different dimension today. At Schwarzkopf Professional we are celebrating more than a decade of hair brilliance with Essential Looks. This year we have imbibed the extravagance and chic of the fashion industry to deliver desirable, wearable, & gorgeous hairstyles ".

ESSENTIAL LOOKS is now poised to capture the myriad moods of the season - defining the true spirit of fashion. Each season, has been put together by a handpicked team of hair professionals. They go onto create a collection of distinct trends that will lead hairdressers and their salon clients to carve their own personal style for the coming season.

Chief Technical Head of Schwarzkopf Professional, Najeeb Ur Rehman said "Each of the four fashion moods identified have been expressed in three ways. Essential Trend is an undiluted, fashion forward look. Essential Style is a commercial interpretation and Essential Dressing provides editorial perspective. This season hair plays such a strong part of the overall fashion directions, that it is an essential part of everyone's wardrobe. There is a high-energy vibe running through both fashion and hair, with quirky and sensual looks that translate across both haute couture and more wearable styles".