Upbeat performance at APLF fair dispels pre-fair pessimism & apprehension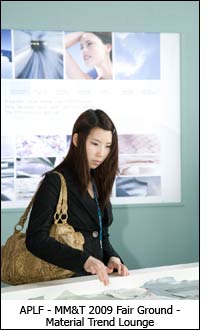 Aisles were buzzing, queues forming at the registration decks and it was "business as usual" at the APLF-MM&T materials and leather fair.

The upbeat atmosphere at APLF's 25th anniversary fair swiftly dispelled any pessimism that exhibitors and visitors may have had upon arrival at the show. This optimistic mood was also strengthened by the positive economic measures coming out of the G20 Meeting taking place in London at the same time.

At the busy press conference on opening day March 31st, APLF Director, Michael Duck, simply stated that trade fairs were there to stimulate business and if travel budgets had been reduced and industry participants could go to just one international fair, then they would come to APLF.

Mr. Duck's assessment was spot on.

According to the verified figures, visitor numbers for MM&T and concurrent fair Fashion Access totaled almost 30,000 this March, an optimistic number considering today's grim global economy. Traditionally, the results at APLF set the trend for the coming year and the 2009 fair could well bear this out.

While 2009 saw overall fewer visitors compared to last year, there were increased numbers reported from important markets such as Spain, the Middle East, Thailand, Pakistan and some South American countries including Colombia, Argentina and Venezuela.

Visitor numbers tell one story but perception tells another. As Mr. Agha Saiddain of the Pakistan Tanners Association remarked, "The number of buyers who have visited our pavilion is higher than the number who came last year."

In a similar vein, Mr. Lemi Tolunay, Chairman of the Turkish Leatehr Council observed, "Many new customers are here since they believe that the leather industry has a bright future."

This year, more than ever, the Organisers pushed for building a strong business-focused environment by facilitating greater networking opportunities between quality buyers and exhibitors.

Mr. Duck noted, "We saw on fair grounds that numerous people were conducting real business. To me this is a true measure of trade show success."

As buyer Mr. Baojing Yang, General Manger of Guangzhou Chengbang Shoes Manufactory Co., Ltd noted, "The product categories are better than last year. We can find more varieties of products. The designs of them can even compare with Europe. APLF–MM&T is doing a great job in such a difficult year."

APLF as the world stage for the leather industry
Just as the opening press conference was packed with the international trade press, an equally important press conference took place the following day concerning ACLE 2009 to be held in Shanghai from 3 – 5 September.

APLF organise this fair jointly with the China Leather Industry Association (CLIA) and at this conference Mr. Su Chaoying, Secretary General of CLIA announced that as of that day, April 1st 2009, that VAT and taxes on leather imported into China would be reduced to zero and that export tax rebates to Chinese exporters of leather products - excluding footwear - would be adjusted from 5% to 13%. This is extremely important news to boost the international leather trade at all levels in these challenging times.