Channel 4's Pete Nottage to host a catwalk evening at OFW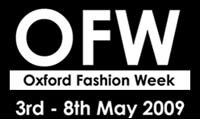 Preparations for the inaugural Oxford Fashion Week are now in full swing following last Thursday's highly successful press launch party held at Maya, London.

Attended by over 200 guests, including models, designers and team, the evening featured the release of an official list of designers and contributors for the events (included in its entirety at the end of this release). Celebrity tattooist Dan Gold, of London Ink fame, made an appearance and it is rumoured that he will be showing off his designs in the final show of the week by stencilling models' bodies with his latest creations.

In selecting contributors for the events, running from 3rd-8th May 2009, the OFW team has relied heavily on raw creativity as a judge of whether a designer should be included. This has meant that stunning new designs from first time exhibitors such as Circuit Bored from Romania will be featured alongside the surreal and experimental such as Piers Atkinson and Cecilia Mary Robson.

Designers are flying in from around the word including Liba Rubenyan from Russia and Libas from India who will both have their UK debut exhibition alongside collections from highly established names such as Alexander McQueen and Maria Grachvogel.

The events
The week kicks off with the Launch Show, a huge party at one of Oxford's largest clubs, The Bridge. A catwalk will feature influences from the decades of the 20th century that have permeated this season's collections with the evening hosted by Channel 4's Pete Nottage. Designers and collections include French Connection, Cult, Aspire, Superdry, Gaff, LK Bennett, Whittawer, Zara.

The Exhibition will include art, illustration and photography contributions exploring organic themes in fashion from many well-established individuals including Adam Parker, Emma Tempest and Erin Petson who has produced illustrations for several fashion houses including Louis Vuitton, Chanel and Lanvin.

The Concept show features a line-up of the hottest new names to watch - spanning students, fashion mavericks and established names. These include Cecilia Mary Robson ("reminiscent of early Capucci or Pierre Cardin" – Hilary Alexander, The Telegraph), Hass Idriss, Henrietta Ludgate, Kapowow, Marithé et Francois Girbaud, Nabil El-Nayal, Piers Atkinson, Topshop Unique.

The Swimwear and Lingerie show will celebrate the human form featuring models casted directly by the OFW Modelling Director, Anthony Parham. Confirmed contributors include Enamore, Joy Lingerie, Rosy Lingerie and Twin Cheeks Corsets.

The Speaker Event, to be held in conjunction with the Oxford Union, will feature Dolly Jones, editor of Vogue.co.uk, Prof. Andrew Ramroop, Saville Row Taylor, Claire Pajaczkowska, Senior Tutor in Fashion and Design at the RCA and Sebastian Horsley, author and journalist, debating the motion "This House believes fashion to be an unnecessary luxury"
The climax of the week, the Couture Show, widely anticipated to be the most high-profile exhibition of the week, will feature designs from Antoni & Alison, Alexander McQueen, Karen Karam (winner of the Mulberry Bag Competition, debut collection S/S 09) Libas, Maria Grachvogel and Satoshi Date - an established project fusing music, fashion and design with hand-made and organic fabrics.