Payless offers Zoe & Zac - fresh green fashion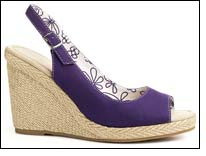 Just in time to celebrate Earth Day, and to enable more people to participate in sustainable living, Payless ShoeSource announced the immediate availability of its new Zoe & Zac brand, which offers "fresh green fashion" with a full collection of shoes, handbags, jewelry and socks -- making it the first-ever affordable line of green footwear and accessories.

The Zoe & Zac green brand -- available now in 1,000 Payless stores nationwide and Payless.com -- was created to democratize green footwear and accessory products by making them affordable and accessible and to bring eco-consciousness to the mainstream. The Zoe & Zac products are green because they are made from eco-friendly components and materials such as organic cottons and linen, natural hemp, recycled rubber outsoles, eco-friendly-EVA cushioning, and water-based glues for the shoes. Natural materials like dyed Tagua and Acai nuts are incorporated into the jewelry. The product packaging is eco-smart as well, utilizing 100 percent recycled shoe boxes and soy-based inks for the printing.

"The sustainability movement is pervasive today and is touching so many elements of consumers' daily lives and they are interested in more and more green product options being available to them," said LuAnn Via, president of Payless ShoeSource. "But green items are often expensive and inaccessible to so many. Today, we are thrilled to launch the Zoe & Zac brand and to make green footwear and accessory products affordable, delivering new options for more people to take part in a more sustainable lifestyle."

Zoe & Zac also has a "fresh green fashion" approach and tagline, making it unique among green footwear products. The brand stresses an "invisibly green," fashion-first position with regular seasonal updates to reflect the latest trends such as popular silhouettes, key colors and other styling details. Zoe & Zac is expected to evolve to a green brand for the family with expanded products for girls, as well as future offerings for men and boys.

"The most common misconception about sustainable fashion is that it comes in one color and looks one way -- neutral, boxy, baggy, shapeless," said Summer Rayne Oakes, Payless' eco consultant who is helping to deliver the new line with strong fashion and sustainable innovation. "The best sustainable fashion is invisible and that's what Zoe & Zac is all about. People like change and to wear the fashions of the season, and Payless is enabling consumers to do that in an affordable and sustainable way with this first-ever new brand."

Zoe & Zac makes its debut with the Spring Collection featuring eight women's footwear styles, two handbags, three girls' shoes, as well as a range of jewelry and socks. The shoe styles showcase key trends of the season including important footwear silhouettes like espadrille wedges, ballet flats, skimmer slip-ons, and flip flops with fun printed fabrics featuring whimsical daisies and camouflageand embellishments like bows and frayed detailing. Handbags include a tote with a unique square shape and tied bow detail and a clutch with a rattan handle. Jewelry features turquoise-like pieces with large chunky pendants and natural-colored beading details. All the products stress important colors of the season: purple, sage, royal blue, brown and pink.