Coach details cost saving initiatives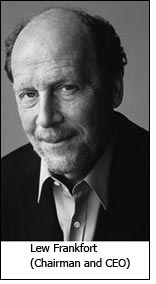 Coach Inc, a leading marketer of modern classic American accessories, reported sales of $740 million for its third fiscal quarter ended March 28, 2009, compared with $745 million reported in the same period of the prior year, a decrease of 1%.

Earnings per diluted share totaled $0.38 for the quarter, excluding a one-time charge of $0.026, compared to $0.46 per diluted share a year ago. Including this one-time charge related to certain cost reduction measures, earnings per share totaled $0.36. Net income excluding the one-time charge totaled $123 million compared with $162 million, a 24% decline. Including the one-time charge, net income totaled $115 million for the quarter.

The company also announced that its Board of Directors has voted to initiate a cash dividend, at an annual rate of $0.30 per share. The first quarterly payment, of $0.075 per share, will be paid on June 29, 2009 to stockholders of record as of June 8, 2009.

Lew Frankfort, Chairman and Chief Executive Officer of Coach Inc said, "The announcement today of the initiation of a dividend reflects our financial strength and our confidence in Coach's business outlook. With a business model that generates significant cash flow and with virtually no debt, we are in a position to take advantage of profitable growth opportunities, while continuing to return capital to shareholders."

As noted, during the quarter, the company recorded three one-time charges. These consisted of expenses related to the reduction of corporate staffing levels in the U.S., the closure of four North American retail stores and the closure of the company's sample-making facility in Italy. In aggregate, these actions increased the company's SG&A expenses by $13 million in the period and negatively impacted earnings by $8 million after tax. Combined with other key measures previously implemented, such as the elimination of merit-based salary increases and a hiring freeze outside of critical growth areas, the company now expects to capture over $50 million in total pre-tax savings next fiscal year.

Mr. Frankfort said, "We were pleased to generate top line results that were essentially even with prior year and encouraged by the stabilization of our comparable store sales to pre-Christmas levels in North America. Importantly, we enhanced the vibrancy of our franchise by providing our consumers with innovative, relevant product at a compelling value without going on sale in our retail stores. Our third quarter results demonstrate our resilience and ability to navigate through this challenging environment. In addition, the steps that we're taking to reduce our expense structure will help position Coach to enhance our profitability."

For the quarter, before one-time items, operating income totaled $199 million, down 23% from the $257 million reported in the comparable year ago period, while operating margin was 26.9% versus 34.5% reported for the prior year. During the quarter, gross profit declined 6% to $525 million from $558 million a year ago.