Denim by Première Vision continues a dynamic of growth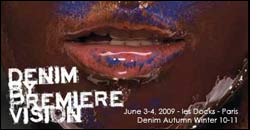 Regularly and session to session, Denim by Première Vision continues to grow. For its 4th edition, to be held this 3 and 4 June 2009, once again at the Docks de Paris Saint-Denis, this international gathering of the jeanswear sector is showing remarkable vitality, with increased participation, the presence of worldwide leaders in the sector, innovative products, outstanding events and an effervescent atmosphere featuring an unusual mix of business and conviviality.

With 68 exhibitors signed on to date, Denim by Première Vision is registering an increase of more than 11% over the comparable session of June 2008, and 10% over the prior edition of December 2008. All the professions involved in the denim sector - weaving, laundering/manufacturing,manufacturers of accessories &fibres - are present for this rendez-vous entirely dedicated to jeans fabrics.

In terms of countries, Italy has the most participants with 17 exhibitors, followed by Tunisia and Turkey, each represented by 14 companies. They are followed by Morocco (7 exhibitors), Spain (5 exhibitors), then France, Hong Kong, Japan, Switzerland, Greece, Mauritius and Romania. In all, high-performing firms from 12 countries will exhibit their know-how and creativity at Denim by Première Vision, including an especially strong representation from the Euromed zone, which is an integrated area with special effectiveness in this sector.

The offer is growing stronger and is updated this session through the addition of new, front-rank exhibitors.These include Candiani, from Italy, an international leader in denim weaving, which is presenting top-of-the-range collections each broken down into 50 qualities. Okinawa, also from Italy and a must-see for accessories, is launching a range of labels made of cellulose and recycled paper.

In the laundering/manufacturing sector, notable arrivals include the Tunisian companies JBG and Olfa Group, specialists in highly creative jeans with top-range finishings, as well as the Moroccan firm City Wash Délavage, which, particularly attentive to environmental concerns, uses eco-tex dyes and clean technologies, including ozone and laser treatments to reduce water consumption. From Hong Kong, Prosperity Textile proposes products made of top-quality cottons showcasing ultra high-performing finishing techniques.

For its 4th edition, dedicated to collections and news for autumn winter 2010-2011, Denim by Première Vision has chosen as its theme "Universoul": a word evoking the essential identity, the very soul, of jeans fabric. This textile speaks loudly and clearly to our imaginations, marked by the individuals, peoples and cultures who, from Africa to Europe, Japan to the Americas, have tirelessly worked it, enriched it, and reinvented it.

Broken down over the 3 halls of the Salon, the "Universoul" spirit will be particularly illustrated in two areas evoking "black boxes" vibrating with the magic of denim: BlackBox Soul (at the entrance of the Haussmann hall) and Black Box Daily (in the Eiffel hall).