Visitors show keen interest in Price theme at ISF & Shoe Expo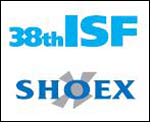 The 38th ISF and the 7th Japan Shoe Expo were held jointly from April 21st to 23rd 2009 at Sunshine City, Ikebukuro Tokyo.

The number of exhibitors was 192, which increased by 6 companies compare to last exhibition (Oct. '08). Also the number of visitors increased by 1.9% compared to last exhibition and 5,165 people came to visit the exhibition. Both numbers exceeded the last record.

The mainstream ladies' footwear trend for A/W '09 is still casual.However there is a touch of elegance in the trend, too. Classic and traditional are more significant for men's. This time again the structure of booths was divided into three "SOU"s (Kanji character for "SOU" means "creativity", "dressing" and "freshness") and regular trend seminars and a talk show featuring the examples of successful stores were held.

Events and seminars themed on "Price" were especially added at this time and many visitors showed keen interest in this theme. In the meantime, the Shoe Expo set up "This is the Japan Shoe Expo Info Studio" and broadcasted making of original shoes and trend information through talk shows.

Exhibitor & Visitors
- Total 178 exhibitors (91 Japanese companies and 87 overseas companies) participated in the 38th ISF. Total number of Japanese companies increased by 14 and total number of overseas companies decreased by 2 (total increase of 12 companies) compared to last exhibition.

Total 14 overseas countries/regions participated the exhibition and the group exhibitors were from Mexico, Portugal and Thailand who started the group participation from the 36th ISF as well as regular Germany and Taiwan. Italy, France and Spain from EU region and China, Hong Kong and Bangladesh from Asian Region and Brazil from South America region participated the exhibition. In the meantime, total 14 (19 for the previous exhibition) exhibitors participated the Japan Shoe Expo.

- Total 5,165 people increased by 1.9% compared to last exhibiton, visited during three days of the exhibitions, 1,326 for the first day, 2,150 for the second day and 1,685 for the third day. Breakdown between business categories is 44.0% for the shoe retailers, 46.1% for the manufacturer/wholesalers and 9.8% for the others. There was a slight increase in the shoe retailers' category.

Information Transmission
ISF Event
(Special Event Space) Four Categories to Survive A/W Business Competition "Price Friendly Product" to encourage sales Four price ranges and business categories that are especially expected growing market sales in the future were forecasted; "sophisticated casual for ladies' between 8,800 and 13,800JPY", "casual for men's between 8,800 and 13,800JPY", "better-chemical above 5,900JPY" and "reasonable fashion for 4,900JPY or less". Market and product briefing for each category was given at the special event space on the 3rd floor. In the space, shoes were displayed with the price tag hidden beneath so that visitors could guess the price and actually see the "high-value & reasonable" product at the same time.