'Only on-demand' retailer Zazzle increases international footprint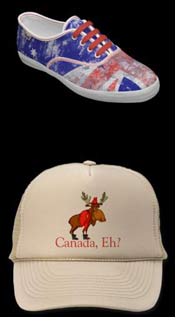 Zazzle, the only on-demand retail platform to offer billions of top quality, one-of-a-kind products, many of which are produced within 24 hours, today announced its continuing international expansion with the launch of localized offerings in Australia and Canada.

Supporting its commitment to serve Zazzle sellers and customers around the world, the company also announced that it now supports a broader European market by accepting payments in Euros at Zazzle.co.uk. The localized site began serving United Kingdom customers in November 2008 when it launched with pricing in Pounds Sterling with VAT and customs duties included in the product price, as well as fast dispatch to the UK and EU at competitive rates.

Mass Customization on a Global Scale
Offering the most thoroughly localized international web sites in the mass customization industry, Zazzle now provides all consumers and brands in Australia, Canada, the UK, and the U.S. the opportunity to become product designers and to earn money by selling their unique designs on a broad array of goods, which are displayed in fully-featured custom stores, free of charge to the seller. Sellers earn royalties at rates they control on every product and can also allow consumers to further customize their creations. Most products are produced on-demand within 24 hours of ordering.

New Tools to Empower Sellers
Besides expanding globally, Zazzle has also added more seller-friendly functionality to its industry-leading on-demand manufacturing platform. Building on its patent-pending "real view" technology, custom embroidery, and custom shoe manufacturing capabilities, Zazzle has extended additional benefits and tools to its sellers through:

• Advanced Store Customization - Custom HTML/CSS functionality gives sellers more control over the look and feel of their Zazzle store, enabling them to create a truly branded destination for their products.
• Expanded Content Upload Capabilities - Zazzle's new Flash-powered bulk image upload tool works on both PC and Mac systems. Combined with Zazzle's Quick Product Create tool, sellers can now create hundreds of products in a matter of minutes.
• Product Style Control - SKU-specific filtering enables sellers to specify which designs can be made available on exactly what types of products, styles and colors, enabling even more merchandising and brand control.
• Simplified Earnings Reports - Enhanced royalty reporting tools give sellers greater visibility into their store activities.
• Custom Dog Apparel - An entirely new product line, custom dog apparel enables sellers to merchandise their brand on more products.

Supporting Quotes
"These most recent additions to the Zazzle Seller Platform are important steps in our continued effort to aggressively expand our offerings," said Chief Product Officer Jeff Beaver. "Zazzle is devoted to delivering phenomenal products and features onbehalf of our entrepreneurial seller community and for our customers across the world."