Warner Bros. & FIDM announce the ruby slipper collection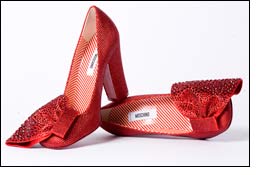 In continued celebration of the 70th Anniversary of The Wizard of Oz in 2009, Warner Bros. Consumer Products (WBCP) announced that it has partnered with FIDM Museum & Galleries to present The Ruby Slipper Collection and Inspirations of Oz Fine Art Exhibition at FIDM/Fashion Institute of Design & Merchandising from June 10-21 in downtown Los Angeles.

As part of the exclusive partnership, a design contest is underway that challenges FIDM students to create the best modern interpretation of Dorothy's iconic Ruby Slippers, as well as develop a jewelry collection inspired by the timeless film. Renowned accessories designer Tarina Tarantino and famed FIDM alumnus Nick Verreos ("Project Runway") will mentor the FIDM students during the design competition.

Working with three major FIDM design disciplines, including Footwear, Fashion and Accessories (jewelry), the budding designers have been given limited time to submit their Wizard of Oz-inspired work for each category. A panel of fashion experts has been tapped to judge the students' footwear and jewelry and to select one lucky winner from each of these categories. The winners will be announced on June 9.

The winning design in the Footwear category will be added to The Ruby Slipper Collection, and its creator will be flown to New York City for The Wizard of Oz Gala Event this fall. The winning student in the Accessories category will also be flown to New York for the fall event.

The Fashion component is taking place within FIDM's SuperLab, a design hub within the school's program, and four FIDM alumni were selected to create a piece based on characters from the film, including Dorothy, Scarecrow, Tin Man and the Cowardly Lion. These designs will be showcased at the FIDM Museum & Galleries during The Wizard of Oz Exhibition run.

The Ruby Slipper Collection consists of modern interpretations of the classic Ruby Slippers, as created by noted names in designer footwear and fashion. Debuted in September 2008 at Saks Fifth Avenue to kick off Mercedes-Benz Fashion Week in New York City, designs from 19 of the fashion industry's masterminds are featured in the Collection, including: A. Testoni, Abaete, Alberta Ferretti, Betsey Johnson, Botkier, Christian Louboutin, Diane von Furstenberg, Giuseppe Zanotti, Jimmy Choo, L.A.M.B. by Gwen Stefani, Lisa Pliner, Manolo Blahnik, Moschino, Oscar de la Renta, Roger Vivier, Sergio Rossi, Stuart Weitzman, Tibi and Tuleh. The FIDM student winner will join this esteemed roster to complete the Collection as the 20th designer. The Ruby Slipper Collection, in its entirety, will be auctioned off in September 2009 to benefit the Elizabeth Glaser Pediatric AIDS Foundation.

The Inspirations of Oz collection of fine art features one-of-a-kind interpretive works from an acclaimed array of artisans including Angelo Aversa, Romero Britto, Phillip Graffham, Gris Grimly, Marcus Antonius Jansen, Johnny Johns, William Joyce, Joel Nakamura, Nelson De La Nuez, Glen Orbik, Ragnar, Alex Ross, Todd White and Yakovetic.