First-ever fMM&T fair in India reports strong buyer participation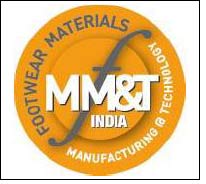 The new Footwear Materials, Manufacturing & Technology (fMM&T) fair and India's only international trade event for footwear manufacturing, leather and materials professionals, wrapped up its first-ever event on May 10th with upbeat results in both numbers and quality participants.

Managed by leading leather and materials trade fair organiser APLF, UBM India and in partnership with Indian Footwear Components Manufacturers Association (IFCOMA), fMM&T cited high foot traffic from both local and international buyers eager to do business, signaling optimism for the footwear and leather industries. "We are extremely pleased with the response. The success of this exhibition is a clear indication of the fundamental strength of the Indian economy," said Michael Duck, Director of APLF Ltd.

He added: "Participants at the fair were focused on doing business and there was strong demand to source leather and footwear components. This is very encouraging news for
related industries." Agreed B.D. Bhaiya, President of IFCOMA, who said: "The Indian component manufacturers are vital to the positive development of the USD 5 billion footwear industry. The overwhelming success of fMM&T India 2009 is a vote of confidence in the Indian footwear manufacturing industry".

Business-ready traders gathered at India Expo Centre in up-and-coming Greater Noida, New Delhi, where the 3-day event took place. It attracted 3249 buyers from 16 countries including China, India, Italy, Taiwan the UAE and USA. Making up the buyer profiles were manufacturers of footwear, leather garments, handbags, small leather goods, travelware, designers, brand owners, importers & exporters, distributors of leather materials and product developers.

Showcased on fair grounds was a complete range of footwear materials, machinery and components exhibited by over 140 exhibitors from prominent leather manufacturing countries and regions including Brazil, China, Hong Kong, India, Italy, UAE, Korea, Spain, Taiwan, Thailand and USA, and also featured international pavilions from Taiwan and Spain. "The exhibition was very well organised. Visitors came to our stand well-prepared and knew what they were looking for," said Alberto Paccagnella, President of Focus Machines India Pvt. Ltd, who also heads the Italian leather goods machinery association ASSOMAC as Vice President.

Mr. Aashish Khetan of Manish Vinyls said, " As compared to other events I had [exhibited] in the past, and despite being the first edition, fMM&T India 2009 was extremely well organised with an excellent venue and quality visitors. We look forward to taking part again next year." Said Lucy Weng, a buyer at the fair, noted: "I have visited other prominent footwear materials and components exhibition, but the range of products on display out here was very good. I found exactly what I was looking for".

Meanwhile, fMM&T's on-site seminars attracted a large audience. The seminar "Fashion's compass into New Frontiers - Shoe retail trends for the Spring Summer 2010 season" ended with a lively discussion from the floor as experts reviewed challenges facing the footwear and leather industry in India and pondered on best solutions for leather suppliers, manufacturers, brand owners and designers to jointly deliver a successful product for the end-user.