ARISE Africa Fashion Week - new day dawns in African fashion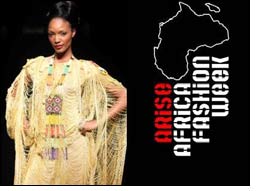 African Fashion International (AFI), organisers of the Johannesburg, Cape Town and Durban Fashion Weeks, is proud to announce ARISE Africa Fashion Week, a showcase of the continent's leading fashion designers at the Sandton Convention Centre in Johannesburg, from the 12 to 20 June 2009.

ARISE Africa Fashion Week is five-year sponsorship agreement with ARISE Magazine, the acclaimed magazine of African style and culture. ARISE launched in February 2009 and is produced in the United Kingdom and distributed internationally.

Nduka Obaigbena, group chairman and editor-in-chief of ARISE, said "ARISE recently presented the African Fashion Collective at New York Fashion Week. The partnership with African Fashion International (AFI) is a continued celebration of African achievement and an extension of our commitment to recognize and showcase the very best of African creative talent. I firmly believe that ARISE Africa Fashion Week will attract an international audience and markets beyond the global African Diaspora. The world's eyes will be firmly focused on Joburg".

ARISE is published by THISDAY, Nigeria's premier newspaper of record, with some 700 staff members in 38 offices across the country. THISDAY has a daily circulation of 100,000 copies (120,000 on Sundays) and a daily readership of 4 million.

THISDAY entertainment division, THISDAY LIVE, is internationally renowned for the music and fashion festivals it has hosted since 2006. Some of the biggest names in music and fashion have participated, many for the first time in Africa, including Jay-Z, Beyoncé, John Legend, Rihanna, Usher, Christina Aguilera, Shakira, Seal, P. Diddy, Mary J. Blige, Chris Brown, Tyson Beckford, Lionel Richie, Diana Ross, Alek Wek, Liya Kebede and many more.

For the past 14 years, THISDAY LIVE has produced the THISDAY Awards, which celebrates good governance in Nigerian business and politics, recognizing outstanding leadership in banking, oil, government and other categories. Many of the world's greatest leaders in business and politics have come to Nigeria to speak and participate in these awards, including Bill Clinton, Former US Secretaries of State, Dr Henry Kissinger and General Colin Powell, Former German Chancellor, Gerhard Schroeder, Kofi Annan, Jeb Bush, Howard Dean, former Prime Minister of France, Dominic De Villepin, former Australian Prime Minister, John Howard, former President of Mexico, Vicente Fox, Donna Brazile, Karl Rove, Steve Forbes, Larry Summers and many more.

Dr. Precious Moloi-Motsepe, chairperson of African Fashion International, says "Our goal is to promote African talent, both locally and on a global scale and ARISE Africa Fashion Week is a further step towards fulfilment of this goal. We are delighted and privileged to partner with ARISE Magazine and Nduka Obaigbena, who shares in this common objective. ARISE Africa Fashion Week will afford the continent's top fashion design talent the opportunity to capitalise on this unprecedented world attention".