Designer Gianfranco Ferré ties up with Damiani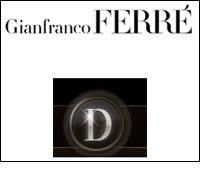 Gianfranco Ferré has the pleasure of announcing a partnership agreement with the Damiani Group for the production of a new line of fine jewellery under the label Gianfranco Ferré.

Tommaso Aquilano and Roberto Rimondi, creative directors of Gianfranco Ferré men's and women's ready-to-wear, will superintend the creation of this new line to pivot on four main themes inspired by iconic hallmarks of the House of Ferré and its unmistakable tradition.

Designed in collaboration with heads of product development at Damiani, the jewellery will enjoy a world-class presentation this coming September when, on the occasion of the Gianfranco Ferré Spring/Summer 2010 fashion show, masterpieces of the collection will appear on the runway along with the latest women's designs.

The partnership with Damiani – another key advance in the Gianfranco Ferré brand's international expansion – marks the union of two major names in Italian style&design, two emblems of Made in Italy uniqueness and excellence.

Mostly for women but with some men's items too, the Gianfranco Ferré Jewellery Collection will be available for purchase at Gianfranco Ferré boutiques worldwide. The agreement also stipulates sale at the Rocca stores (owned by the Damiani Group) and at the best jewellers.

The collection, in gold or silver with diamonds and other gemstones, addresses a sophisticated and particular audience attentive to innovation and novelty. At the same time, it offers various price ranges thanks to a competitive positioning, between 500 and 10,000 euros retail, depending on the type of materials used.

"It is with great enthusiasm that we're making this alliance," underscores Michela Piva, leading manager of Gianfranco Ferré. "The agreement with the Damiani Group is as precious and valuable as the creations we'll be presenting in September. Pieces of jewellery unique and exclusive, both for the inestimable craftmanship distinguishing the entire production and for Damiani's masterly reinterpretation of symbols like the safety pin and the chain forever identifying the Gianfranco Ferré style around the globe."

"Clearly benefiting from the distinctive qualities that set Damiani apart in terms of production capacity and effective retail network," adds Giorgio Damiani, "our group is establishing ever closer connections with the world of fashion. We are especially pleased to announce this partnership with Gianfranco Ferré."

The collection features four main themes inspired by the extraordinary design vision and timeless hallmarks of the Gianfranco Ferré style.

SIGNATURE PIN – graphic revisitations of the safety pin appear in all Gianfranco Ferré collections, in an infinity of inflections from quilted bags to jacquard stoles, men's ties to eyeglass frames. The safety pin also makes a statement in the doubly singular form of earrings and in the dynamic allover pattern of bracelets. Utmost expression comes in the multistrand necklaces with safety-pin links in white and red gold.