Barbour brings soft shades for summer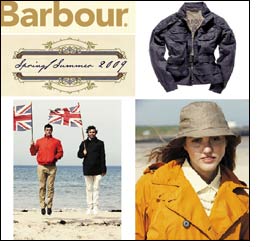 For Spring Summer 09, Barbour brings authenticity to a look that defines the lifestyle of a British summer lived to the full. Layers for men and women are worn with character and wit to create an individual style. At the heart of the collection is Barbour's heritage which continues to inspire these new designs and developments.

Simple, elegant, contemporary clothing inspired by the best of British college wear and a sense of belonging is introduced into the range. Robust yet fun to wear, the collection reinforces Barbour's heritage and authenticity as it moves from casual midlayers and trousers through to smart jackets with particular attention to style, colour and tradition capturing the essence of 'Britishness.'

Sports and Stripe Polos, along with Fine Rugbys, mix with formal shirts. Club ties and fine cotton knitwear in Argyle patterns and soft summer shades under Flyweight wax and quilt jackets present a "preppy" style that is uniquely British and very Barbour.

Flyweight Wax
Flyweight Wax, Barbour's lightest ever iconic fabric at 4oz, retains the style and weatherproof qualities of weightier antecedents, while its drape and portability make it suitable for summer months and warmer climates. Alongside the best selling mens four pocket Flyweight Wax Utility and Sapper styles, this innovative fabric is utilised in the new mens Merton Mac which combines the best of traditional and contemporary to give drape and shape to its clean lines. Traditional Barbour touches - the cord collar, and Barbour tartan keep it smart, yet its versatility comes from its simplicity.

For women, the new belted Flyweight Wax Utility Mac and Amelia, range elegantly alongside the Valerie Short which has been developed from the Barbour archive and combines a rugged practicality with a twenties glamour for an irresistible light summer mac.

Featherweight Jackets
Waterproof and breathable, Barbour's Featherweight garments are not only durable and washable but their light weight does not detract from their smart appearance. Alongside the Men's Contemporary Beaufort, International, Flyer and new Solent styles, the Featherweight fabric features in a new Mens Utility, which is not only stylish but immensely practical with four outer and multi inner pockets and a two way zip allowing it to function equally well as a city or country layer.

Colour is pre-eminent in the womens Featherweight styles with a beautiful orange Featherweight Valerie Short, the highlight of a set, which also includes a new Featherweight Utility and Utility Mac.

Lightweight Metallic and Steel Fabrics
New sheen fabrics including Lightweight Metallic and Steel give visual interest and texture to the mens Flyer, Utility Mac and Sapper styles. The Steel fabric has a proportion of the metal in the weave, so it has not only a visible lustre, but also structure, giving the fabric a textured identity. The new mens Steel International and short Flyer styles have a rugged and contemporary presence contrasting with the contemporary belted Steel Amelia and Steel Ladies International, which complement the graceful new Ladies Lightweight Metallic International.