NILIT presents bodyfashion & active/sports wear trends for S/S 2011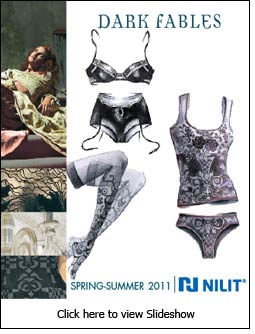 NILIT announced its new trend concepts for bodywear and active-sports wear for Spring-Summer 2011 which will be presented in the NILIT BODYFASHION TRENDBOOK.

Faced with a world of uncertainty and instability, bodyfashion and activewear mirror a society seeking ways to live a better life in a new mood sparked by a quest for meaning. The Summer 2011 consumer will know how to combine two seemingly opposing worlds: on the one hand, one of purity and spirituality and on the other hand a need for ornamentation and sensuality. These two contradictory aesthetics are confronted as we define the trends for Spring-Summer 2011.

For bodywear, the search for authenticity manifests itself in the quest for a different consumerism. This season reconciles ecology and technology and lends a zest to creativity. Personal expression goes hand in hand with aspirations of style and the search for added value. The closer interaction between science and aesthetics is part of the broader eco design philosophy, now on sound ground for the future that we aspire to.

Activewear reflects that the world of sport no longer just focuses only on physical prowess. It encompasses ecological and spiritual considerations where performance aspires to a broader vision of the world and the environment.

At NILIT, consideration for the environment is at the cornerstone of our business and we have engineered our operations to produce the best nylons in the world in the most eco-friendly manner possible. Our NILIT EcoCare recycled yarns reflect our philosophy and are a breakthrough in yarn engineering and production. Innovation is the key at NILIT and our unique and diverse products continue to open new vistas creating a new generation of state-of-the-art products that are both at the cutting-edge of fashion and in perfect harmony with the environment.

THE TRENDBOOK defines three trends for SPRING-SUMMER 2011 for BODYWEAR and highlights the yarns and colors best suited to these trends:

ETHNIC FUSION.
This season lingerie rediscovers ethnic ornamentation which is expressed in a multi-cultural trend inspired by faraway lands and the riches abundant in nature. Native American landscapes, rugged deserts and African safaris provide the backdrop in which traditional tribal influences and indigenous handcrafts are blended. Natural handles dominate, resembling rough textures of cracked earth, animal hides, grass and bark. Rich earth colors in deep tones are created from NILIT Colorwise yarn.

DARK FABLES.
An atmosphere of mystery, magic and the occult expresses itself in a neo-Baroque spirit. A mood of fantasy inspires a glamorous haute couture style with a contemporary interpretation of mythology. This daring and sensuous theme focuses on body-fitted shapes made from ultra-sophisticated fabrics featuring extravagant and poetic details. The timeless elegance of satin, damask, transparent voile and lace in smokyshades convey a sensual and luxurious look. Dramatic bright satin effects are created from NILIT Britex yarn.