Flying the flag for British fashion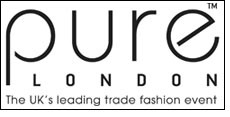 With a host of iconic British fashion businesses celebrating their milestone birthdays this year, including Marks & Spencer and Jaeger enjoying their 125th and Selfridges celebrating their 100th, Pure London is set to welcome a host of British brands marking the very best of British fashion (2-3-4 August 2009).

The show attracts a range of overseas buyers from across the globe with regular visitors from Germany, Spain, Italy, France, Netherlands, Japan and the USA. Over 324 UK brands are signed up to exhibit with 60 of those new to the show. It has never been a better time for international buyers to visit Pure London, to source original and stylish British labels.

East Village will be showing for the first time bringing beautifully feminine womenswear with an eastern flavour, using traditional embroidery techniques and a wide colour palette on luxurious fabrics. 'After establishing the label in the UK to a loyal base of stockists over the past 2 years, it's now time to take the brand to a wider audience and new markets. Pure is the best way for us to facilitate our next growth phase' comments Karmin Kenny, owner of East Village.

After missing a season James Lakeland will return in August with a range of tailored and fitted designs in bright colourful tones. 'Pure London has always been a directional show and the buyers have always loved the buzz. We feel at James Lakeland that the way forward is to keep that buzz alive and communicate our strategy and image through a number of different avenues. Showing our forward order collection at Pure London is one of the key communication tools .We are greatly looking forward to returning to the show.' James Lakeland comments.

A favourite among visitors, Almost Famous is back showing soft dresses, featherweight tops with ruffles and flounces creating a romantic and subtle femininity. After seasons of success, Darling, Betty Jackson Two, Ian Stuart London, Nougat London, Calla Lilly, Fever and Out of Xile will be presenting their Spring / Summer 2010 collections.

Whilst the economical downturn seems to have little effect on young consumers, emerging young creative fashion for men and women keeps on growing. Pure London's Spirit section has a range of exciting new brands including Jin-Ja with a pretty collection combing elegant silhouettes with specialised in house design prints. Much-loved quirky designs from Yumi, Chilli Pepper, Jovonna, Kate Fearnley, Traffic People and Goldie will be back, whilst Duke London, D555, BC London, Brandon and Rockford will be bringing a range of on-trend menswear.

This season buyers can expect more than the usual impressive line-up of footwear and accessories with a range of unique British collections. Recently chosen to take part in the English handbag designers' exhibition at the Tassen museum in Amsterdam alongside designers such as Burberry, Lulu Guinness and Stella McCartney, Alison Van Der Lande will be debutingher stunning range of handbags. With a cult celebrity following including Jennifer Aniston, Victoria Beckham, Sarah Jessica Parker and Elizabeth Hurley, this is a brand not to be missed!