Mikimoto provides an essential guide to caring for your pearls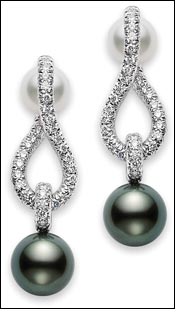 Since Kokichi Mikimoto succeeded in creating the world's first cultured pearl in 1893, Mikimoto has been dedicated to presenting only the finest quality cultured pearls. The Mikimoto sorting process and proprietary grading system assures that every customer acquires only the most superb gems and pearl jewellery.

Pearls have always been a 'chance' product of nature and initial efforts to delve into their mysteries did not yield immediate results. Many factors led to repeated failures but regardless of the many complications imposed by nature, Kokichi pledged to commit every fiber of his being to the task and he had the stubborn confidence to turn mighty nature into his ally.

The day he had been waiting for finally came on July 11, 1893. In the company of his wife Ume, he raised one of the bamboo oyster baskets out of the water, opened one of the oysters, and there, inside the shell, he discovered a shining pearl. This was the first time in history that a human being had ever created a pearl.

The pearls that most of us wear today are cultured pearls; their existence is initiated by humans who insert a bead or any other object into an oyster clam. The clam then coats the object with nacre, the finish that gives pearls their unique appearance. The depth of nacre depends on many factors but as the nacre thickness increases, so does the quality of the pearl.

"The surface of a pearl is soft and is easily damaged. Pearls set in rings and bracelets are more subject to scuffing and scratching than pearls set in brooches, earrings, necklaces or strands. A pearl ring or bracelet should be considered a special-occasion piece, not for daily wear and definitely not to be worn while working with the hands. Because they are an organic gem, pearls require more specialised care than most other gems." said Jeremy Burbanks, Mikimoto European and Middle East Sales Manager.

Pearl jewellery always complements a woman's personality and in order for them to last you a lifetime you must take good care of it. Since pearls are natural creations, they contain calcareous crystals, water and protein. Hence they are sensitive to acids and other chemicals and tend to get dry over time.

The following are a few ways you can keep those pairs of earrings safe and clean:
• It is a good idea to clean the pearls every night. Always fasten clasps and pins so that chains do not get tangled and jewels do not get scratched from rubbing against one another. Then lay each item out separately, one by one. If you carry your jewelry around, be sure to put it into a jewellery pouch.
• If substances such as cosmetics, hair spray, or perfume adhere to your jewels, they will lose their radiance, absorbing dirt and dust and causing alteration or loss of colour. Be sure to put on your jewellery after you do your make-up, and to wipe your jewellery with a soft cloth after use.
• No matter how carefully you take care of your jewelry, small parts may still come loose. It is recommended that you carefully check such parts as the hooks that support the jewels, the clasps of necklaces, the screws of earrings and brooch pins.