JCP style 'Made for Manhattan'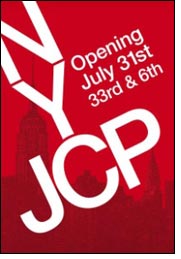 J. C. Penney Company Inc, the legendary American retailer with a 107-year history and more than 1,100 stores from coast to coast, has never had a store on the island of Manhattan. That will change beginning July 31, when the Company celebrates the grand opening of a brand-new JCPenney department store at 33rd Street and 6th Avenue in the heart of New York City, America's fashion capital.

JCPenney's 153,000-square-foot store will be a unique showcase for great style, quality and affordable prices in one of the busiest shopping districts in America. From its location near Herald Square, the new JCPenney store will serve an enormous customer base that includes local residents, commuters, business travelers and tourists and will build on the strength of its other highly successful New York City stores in Queens, the Bronx and Staten Island.


A Century in the Making
Although JCPenney maintained its corporate office in Manhattan from 1914 to 1988, the store is a first. "It took more than a hundred years for JCPenney to get to Manhattan, and now more than ever, the time is right," said Myron E. (Mike) Ullman, III, chairman and chief executive officer. "Our Company today has the financial strength to create a unique and inviting store in the heart of New York City, and with our assortment of great brands, we will offer Manhattan shoppers the style they want at affordable prices."

The two-level store in the freshly renovated Manhattan Mall is accessible from street level as well as directly from two of Manhattan's busiest public transportation terminals - the 34th Street-Herald Square subway station and the 33rd Street PATH train station. More than 250,000 people pass through these terminals daily. The store is also one block from Penn Station and close to both the business district of midtown Manhattan and the tourist center of Times Square.

"The entire store team is energized to take part in this milestone achievement for our Company," said store manager Joe Cardamone, who most recently managed the Bronx JCPenney store. "With our merchandise, store environment and services, we have created a new department store experience tailored to the needs of the Manhattan customer – the people who live, work and visit here. We're confident they will love what JCPenney has to offer."

With approximately 500 Associates, the Manhattan store team will be one of the largest of any JCPenney store. Chosen from more than 15,000 applicants, the store team is being trained in JCPenney's CustomerFIRST standards, which empower Associates to make customers their No. 1 priority and provide an easy, exciting and engaging shopping experience. The CustomerFIRST initiative helped JCPenney rank first among department store retailers and seventh overall in the NRF Foundation/American Express 2008 Customer Service Survey, which polled more than 8,000 consumers on their attitudes toward retailers' customer service.

Made for Manhattan
Inside the mall, a three-story, lighted JCPenney sign hangs above the escalators leading down to the store. Customers entering from the PATH and subway stations will pass through 22-foot-long portals tiled and painted in JCPenney's signature red.

Inside, the store's layout and many of its features and amenities have been tailored to fit the unique location and needs of time-pressured, commuting customers. More than 1,000 new merchandise display fixtures have been created or modified for the store, resulting in a modern, intimate and accessible shopping environment that's easy to navigate.