BREAD & BUTTER, BERLIN is a complete success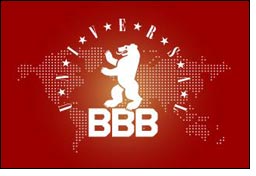 The Street and Urbanwear trade show, which took place from 01- 03 July, 2009 in Berlin, ended last Friday with a brilliant result. The return of BREAD & BUTTER to its hometown under the motto BERLIN, BERLIN, BREAD & BUTTER, BERLIN was a complete success.

Karl-Heinz Müller, Managing Director of BREAD & BUTTER: "The return to Berlin was the right decision at the right time. In Barcelona, BREAD & BUTTER advanced to become the internationally leading trade show – now, we have brought this strength back to Berlin with us."

The grounds of the former airport Berlin-Tempelhof, named "the mother of all airports" by Lord Norman Foster, have impressed, enthused and inspired exhibitors and trade visitors alike. The logistic conditions of the c-shaped building complex are excellent. The easily accessible and central location in the heart of Berlin significantly facilitates the visitor's journey and work. Berlin's enormous hotel capacities were nearly fully booked, and room booking on short notice was hardly possible anymore.

The visitor quality was on a level not reached up to now, also due to the extended entrance controls. The visitor profile was trade-relevant and professional throughout – the working atmosphere was bustling and focused.

Karl-Heinz Müller: "From now on, we will not publish our absolute visitor numbers anymore, visitor records are irrelevant. It is the quality of our exhibitors and visitors that comes first – and this is what we will continue to work on determinedly."

"Based on scanner data, every one of our exhibitors can measure, control and analyse the own individual result. The buyer is aware of the leading role of BREAD & BUTTER as the international leading trade show and of its importance as the source for information and buying. Everyone present at the last event witnessed the strength and force of BREAD & BUTTER BERLIN. Our exhibitors and visitors from all over the world were throughout satisfied with the event, even euphoric."

The BREAD & BUTTER trade visitor profile was very international. A little more than one third of the visitors came from Germany. The strongest countries were Italy (13%), Benelux (9%), Great Britain (7%), Spain/Portugal (5.5%), France (5%), Scandinavia (4%), Switzerland (3%), Austria (2%), Turkey (2%) and Greece (1.5%). The Eastern European countries and Russia were present with ca. 4%. From overseas, mainly the USA, Canada, Brazil, Japan, South Korea, Australia, Hong Kong, China and India, came nearly 6% of the visitors. All in all, visitors from ca. 100 countries could be welcomed. Therewith, BREAD & BUTTER has proved itself also in Berlin as the leading international tradeshow in the Street- and Urbanwear segment.

Buyers from the most important houses from all over the world were there, such as De Bijenkorf, Amsterdam; Flying A, Magasin du Nord, Copenhagen; Stadium, Stockholm; Eder, Kitzbühel; Sträuli, Zürich; Einwaller, Innsbruck; Stiefelkönig, Graz; VMC, Globus, Zürich; Printemps, Paris; Galeries Lafayette, Paris/Berlin; Block 60, Riccione; Slam Jam, Milan; Gerard Loft, Florence; El Corte Inglés, Spain; Beymen, Istanbul; Selfridges, London/Manchester; Brown Thomas, Dublin; Alife, Atrium, Macy's, New York; Beam's, United Arrows, Isetan, Tokyo; and many more.