Moda to unveil new features in a few days time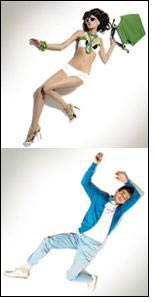 In less than a week Moda, one of the UK's largest fashion trade shows will open its doors, presenting new brands, product areas, features and events for spring/summer 2010.

This season sees the launch of Moda Beach, the UK's newest swimwear show. Brands signed up for the event include swimwear favourites Fantasie and Freya, as well as designer swimwear label Calvin Klein and stylish swimwear label Gideon Oberson.

Moda Menswear will welcome 25 per cent more brands than the August 2008 show, with the growth of both the main show and contemporary area Moda Platform. New signings include German outerwear label Heinrich Nickel, British lifestyle label Joules and British performance label Musto. Retro casual wear label Gola Classics makes its debut at Moda Platform.Returning to Moda after an absence is quality German label Campione and international label Pierre Cardin.

Moda Platform, the successful contemporary fashion concept comes to Moda Woman this season with a mix of directional and niche labels, all new to the show, including contemporary, young French fashion label Carling-Paris, Italian/Turkish label Tarsiani, iconic knitwear label John Smedley, British label Pepper Tree and contemporary Irish Label Ella Boo. While Moda Woman sees the return of Michel Ambers, Chianti, Emreco, Libra, Riona and Arruba after an absence of several seasons.

Moda Footwear also welcomes its most directional line-up at the UK's largest footwear show. Find a host of new fashion names in the Boutique and Life zones including FIVE, the new label by Rio Ferdinand in conjunction with Strutt Men and Zandra Rhodes by Strutt Couture, plus Fly London and Blowfish.

Skillfast-UK's 'Behind the Seams' exhibition lifts the lid on some of the UK's most successful and iconic UK brands. Mulberry, Jasper Conran, Henry Poole & Co, Trickers and English Eccentrics are among the brands giving visitors' exclusive access to unique photographs that capture product journeys from concept to finished article. Skillfast-UK will also be making a presentation during the show to award exceptional women in retail.

Six of the De Montfort University's most talented fashion footwear design graduates have been selected to display their designs at the show. De Montfort University offers the only single Honours Footwear Design course in the UK, with many of its graduates going on to work for leading companies including Paul Smith, Diesel, Reebok, Office and Karen Millen. Moda will give visitors the opportunity to view the creations of these six footwear designers of the future.

A brand new look for the Moda Catwalk sees two shows running throughout the three days, with Moda's womenswear and menswear show will alternate with the key swimwear looks from Moda Beach.

Moda's free seminar programme includes the likes of Dennis Reid of Retail Performance Specialists, who will be looking at how improvements to some of the key areas of yourbusiness can help you survive and prosper during the downturn, while Craig Phillipson of Shopworks will look at how changes to the layout and design of your store could make a real difference when your customers arrive at the till. Both speakers will appear on both Sunday and Monday.