ALL ACCESS: Fashion for fall/winter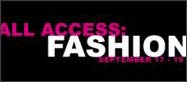 ALL ACCESS: Fashion presented by Tysons Galleria is a three day fashion and trend event that will allow guests to witness the excitement and energy of the international collections at Tysons Galleria, shop the best of the season, meet style icons and experience the frenzy usually reserved for fashion insiders.

"Project Runway" has given the masses a glimpse into the inner workings of the fashion industry, however few have had the experience of entering the tents to attend the shows and experience the true fashion frenzy. Imagine the excitement and energy of New York Fashion Week at Bryant Park at Tysons Galleria!

Kerem Kayserilioglu, General Manager of Tysons Galleria states, "We continuously strive to be the leader in our market for luxury and trends. With ALL ACCESS: Fashion, Tysons Galleria will highlight its top-notch collection of luxury retailers in an exciting and forward-thinking platform. Our goal is to bring the energy and fantasy of the fashion world to the Washington, DC Metropolitan area to inspire and educate consumers while supporting a worthy cause."

All the style taking place at Tysons Galleria will be underscored with substance as YouthAIDS will be the beneficiary of ALL ACCESS: Fashion with participating retailers donating a portion of sales to the YouthAIDS global initiatives.

Kate Robert, Founder and Director of YouthAIDS states, "We are delighted to be partnering with Tysons Galleria for the third consecutive year. Through the power of fashion, music and art, YouthAIDS educates people about the risks of HIV/AIDS to prevent the spread of this deadly disease. With the help of Tysons Galleria and participating retailers, this event will raise necessary funding and awareness for our programs around the world. Every $10 raised for YouthAIDS will help educate and protect a young person for one year from HIV/AIDS so please come out, have fun, and shop for a good cause!"

From September 17-19th, Tysons Galleria will host a series of trend events including: Luxury: Reinventing the Dream

An exclusive dialogue with luxury retailers and business luminaries on the scope of the luxury industry in a climate of change from economics to trends and the role of social media. Moderated by Ned Martel, Senior Style Editor, Washington Post. 7pm on Thursday, September 17th at Center Court. Seating by invitation only, standing room available.

Fall/Winter 2009/2010 Runway Presentation
YouthAIDS Ambassador, Model and Businesswoman Frederique Van der Wal will host the runway show featuring the top trends of the season presented by luxury retailers of Tysons Galleria. Saks Fifth Avenue, Karen Millen, Max Studio, Nicole Miller, Millers Furs, Wolford and more. 7pm on Friday, September 18th at Center Court. Seating by invitation only, standing room available.

ALL ACCESS: Fashion Day
Saturday, September 19, 2009
Between 10am and 9pm guests will be treated to an all day fashion haven at Tysons Galleria.