Kohl's to add more than 5,000 jobs to the economy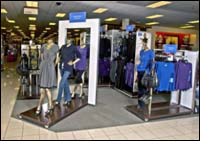 Kohl's Department Stores marks the grand opening of 37 new stores that have created more than 5,200 jobs across six states.

"We are proud that Kohl's is in a position to grow and add more than 5,000 jobs to the economy," said Kevin Mansell, Kohl's chairman, president and chief executive officer. "We have used our financial strength during this downturn to expand in key markets, such as California, as well as invest in our existing store base in order to gain market share at a time when customers are looking for value more than ever."

Growth & Expansion
Among the 37 stores opening today, 35 are former Mervyn's locations, 30 of which are in California. With the addition of these stores, Kohl's now has 121 California locations, a 33 percent increase in the state. This translates into more than 4,200 new jobs in California.

In addition to the new California locations, Kohl's is opening stores in Florida, Louisiana, Nevada, Texas and Utah. During spring 2009, Kohl's opened 19 stores, including its first Alaska location. In total, the retailer opened 56 stores in 2009, and now operates 1,059 stores in 49 states. Kohl's is also remodeling 51 locations nationwide this year.

More Ways to Save on World-Class Exclusive and National Brands
Kohl's offers shoppers a variety of ways to get great values on the brands they love. There are no merchandise or brand exclusions when using offers like Kohl's Cash coupons or Kohl's Charge Card discounts. In addition, customers can layer on these discounts and maximize savings during special promotions and sale hours. Every store also offers an industry-leading return policy, gift cards, gift registries, convenient store hours, centralized checkouts and the Kohl's Cares for Kids® cause program.

Kohl's commitment to customer service has been endorsed by the National Retail Federation, which for the past four years has recognized Kohl's on its list of retailers that offer the best customer service. In addition, Kohl's has ranked among the top retailers in the University of Michigan's customer satisfaction survey for six consecutive years1.

Kohl's wide range of world-class exclusive and national brands is another way the retailer offers great value and convenience to customers. Brands include Simply Vera Vera Wang, Dana Buchman, ELLE Contemporary Collection, Chaps, Abbey Dawn and the new Abbey Dawn Girls designed by Avril Lavigne, Hang Ten, Tony Hawk, Mudd, Jumping Beans, apt. 9, American Beauty, Food Network, Nike, adidas, Levi's, Carter's, Gloria Vanderbilt, Cuisinart and KitchenAid. In addition, Kohl's is now the exclusive U.S. retailer for LC Lauren Conrad, a new contemporary lifestyle brand for women designed by Lauren Conrad.

Committed to Environmental Responsibility
As a leading environmentally responsible retailer, Kohl's green initiatives include the construction of green buildings, a dedicated recycling program, a commitment to energy efficiency and the use and support of renewable energy sources. The company was most recently ranked first among retailers on Newsweek's list of The Greenest Big Companies in America and was named one of the Environmental Protection Agency's (EPA's) 2009 Green Power Partners of the Year.