Fashion students receive EPA grant to develop sustainable garment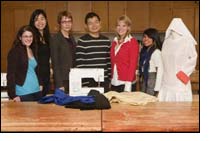 Fashion students at the University of Delaware have received a grant from the Environmental Protection Agency (EPA) to help them create an adaptable and sustainable garment as an entry for the EPA's seventh annual P3 Award competition.

The students include senior Rita Chang and juniors Heather Starner, Jennifer McCord, Jenna Shaw and Grace Manalo. They are advised by Huantian Cao, associate professor, and Jo Kallal, professor, in the Department of Fashion and Apparel Studies.

P3 represents People, Prosperity and the Planet.The competition is focused on benefiting people, promoting prosperity and protecting the planet through innovative designs that address challenges to sustainability in both the developed and developing world.

The group is trying to solve the problem of excess consumption in the fashion and apparel industry by creating an adaptable garment targeted at college females. The garment design features adjustable and removable parts that allow it to function as several types of garments and styles and be adaptable for different climates.

"By adding more possibilities to our garment, we're hoping to satisfy the consumer for longer, leading to lower throughput of clothing," said McCord, an Honors Program student and Dean's Scholar whose major focuses on social responsibility and sustainability in the fashion industry.

Chang, who is also a Dean's Scholar in the Honors Program, said because more and more clothing is currently priced for less, people are buying more clothing and in turn, wasting more materials. By creating a garment that is customizable in size, shape and design, the group hopes the consumer will save money and fewer materials will be consumed.

"Fabric waste is at an all-time high, and we need more conscious consumers," Manalo, a fashion merchandising and fashion design double major, said. "When people throw away clothes they don't want, it is waste. It's not like paper, which is recyclable; polyester is not recyclable."

Starner, a fashion merchandising major in the Honors Program,said the group has to prove to the EPA that their design will survive in today's economic climate by presenting a garment that would be versatile and environmentally friendly.

"We want the EPA to think that this is a new idea that hasn't been looked at before, and that over-consumption in the fashion industry is a serious problem that should be evaluated," she said.

The proposal to the EPA was submitted last winter and a $10,000 grant was awarded to the students this past spring. The money from the grant has allowed the students to explore more possibilities with the garment by acquiring more materials and fabrics, as well as specialized equipment.

Cao said so far the biggest challenge the students are facing is finding the right material to use for the garment -- one that is environmentally friendly but also affordable.Chang agreed, adding that they have to watch out for "greenwashing," a term that is used for when manufacturers say their products are green when they are not.