TeamPBR unveils fabulous array of fashion merchandise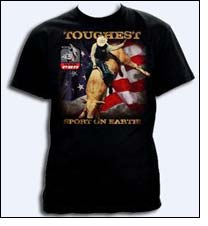 Professional bull riding fans have never had it so good! This year, for the first time ever, members of the Professional Bull Riders Official Fan Club - TeamPBR, will experience the TeamPBR FAN ZONE at the PBR Built Ford Tough World Finals; have first dibs at the chute seats; and get a sneak preview of the coming year's attractions. TeamPBR membership definitely has its rewards!! For those fans who won't be on site at the World Finals, stampede on over to check out a whole saddlebag of offerings, including a huge selection of totally new TeamPBR gear, live Twitter feeds from the events, VIP Experience packages with thrilling chute seats for the 2010 season, a newly expanded web site for top tier riders and bulls, and tons of activities and opportunities to interact with fellow fans. TeamPBR.com and TeamPBR are managed by PAID, Inc. for PBR.

TeamPBR has launched a fabulous array of new apparel, jewelry and accessories ideal for holiday gift giving during the Professional Bull Riders Built Ford Tough World Finals in Las Vegas, at the Fan Zone and on www.TeamPBR.com. Just in time for the holidays or to wear during the Finals, TeamPBR is unveiling a whole corral of new designs emblazoned on T-shirts, hoodies, hats, and other apparel items, as well as jewelry and accessories. Fan club members get a sneak preview and first chance to purchase the new gear at the PBR Fan Zone & Marketplace during the World Finals. In addition, the new 2010 TeamPBR membership kits will be available in the TeamPBR booth at the World Finals and at Fan Zone events. The new TeamPBR kits are now available online. They're the perfect gift for any PBR fan – no worries about color or size.

"The fans have been thoroughly enjoying all the TeamPBR benefits, changes and additions," said Katie Coulson, PBR TeamPBR Manager. "The VIP Experiences were new this year and fans are raving about the thrill of the chute seats. We believe the Fan Zone is a very exciting reward for TeamPBR members. It will be a great introduction to the VIP Experience for many who were hesitant to take that step and will give them a taste of an experience that is absolutely unmatched."

She added, "Fan feedback on the new web site and merchandise has been extremely positive and we're seeing increases in web site traffic and membership, as well as in spending despite the recession. We're looking forward to continuing the momentum in 2010."

PBR attracts over 1.7 million live attendees each year with its multi-tiered event structure which includes the prestigious Built Ford Tough Series, the Copenhagen Bull Riding Challenger Tour, the Enterprise Rent-A-Car Tour, and the Discovery Tour, designed specifically for entry level contestants. With over 450 hours of prime time programming annually and a viewership of 100 million, PBR ranks among the most prolific sports on air and broadcasts on FOX, NBC, VERSUS, and on a host of foreign networks across the globe. The PBR is headquartered in Pueblo, Colo., with additional offices in Australia, Brazil, Canada, and Mexico, and prides itself in its 1,000 plus stock contractor relationships and over 1,200 PBR bull riders competing in more than 300 PBR sanctioned competitions across the five countries.