Hidden gem in Beverly Hills!!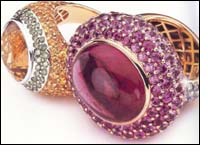 Leon's Fine Jewelry, Beverly Hills, California, welcomes all visitors and holiday shoppers to visit their boutique on Beverly Drive for an unforgettable fine jewelry experience. A fixture and "best kept secret" in Beverly Hills, Leon's has expanded its holiday gift selections of diamonds, pearls, precious gems and fine jewelry. As one of a few authorized jewelers, Leon's carries the De Beers Everlon Diamond Knot Collections within their extraordinary jewelry showroom that has been a hidden gem in Beverly Hills for almost ten years.

"Shopping is a unique pleasure at Leon's Fine Jewelry. This beautiful retail salon in Beverly Hills is the culmination of our thirty years of passion and commitment to excellence in jewelry design, workmanship and customer service," said Leon Haytayan, founder and President of Leon's Fine Jewelry. "When we opened the boutique, we opened our hearts to all residents, shoppers and visitors of this magnificent city to experience and enjoy our first class service and indulge in our affordable luxury."

Nestled in a romantic storefront reminiscent of summertime in Provence, Leon's offers a selection of exquisite merchandise that is unparalleled in the fine jewelry industry. The boutique is centrally located in Beverly Hills, just a short drive from Orange County, the San Fernando Valley, and the greater Metropolitan Los Angeles areas.

Conveniently situated at 308 North Beverly Drive, Leon's is just across from Il Fornaio, Williams Sonoma and Gearys, and is within walking distance from the Regent Beverly Wilshire Hotel and the new Montage Beverly Hills. Two-hour free parking is available on Beverly Drive, Canon Drive and Rodeo Drive courtesy of the The City of Beverly Hills. Leon's Fine Jewelry on Beverly Drive sits adjacent to prestigious Rodeo Drive, home to world famous brands and designers Gucci, Chanel, Louis Vuitton, Versace and Jimmy Choo. Leon's is proud to share their affordable luxury within shopping distance of Tiffany and Co., Van Cleef and Arpels, Buccellati, Harry Winston, Cartier, DeBeers, Fred Leighton, Chopard, David Yurman, and Bvlgari.

"Each showcase at Leon's displays stunning, original designs created by our in-house craftsmen along with an assortment of the finest, hand-selected imported pieces from renowned international designers, all merchandised and serviced by our expert jewelers," added Leon Haytayan. Many celebrities and collectors have admired and acquired Leon's treasures in recent years, as the wall of fame in their lounge showcases.

"We appreciate loyalty and strive to provide an environment that is warm, inviting, friendly, and personalized to each of our client's needs. Leon's is family - we love to see our customers again and again," said Jack Aprahamian, the sales manager. "Stop in for an espresso and browse our unrivaled selection of merchandise. If you don't find what you're looking for, we will be happy to create it for you," he added.