Dufry to open new shops in Egypt, Honduras, France & US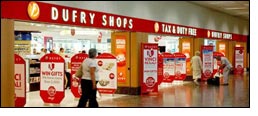 Agreements signed to open new shops in Egypt, Honduras, France and the United States Retail space expanded by more than 3%.

Dufry, a leading global travel retailer with over 1,000 outlets in 42 countries, signed agreements to operate new shops in Egypt, France, the United States and Honduras. Dufry will be adding more than 4,500 sqm, or more than 3%, to its global retail space.

The agreements in the US further strengthen Dufry's leading position in the US market and allow the company to leverage its existing business in that important region, while the contracts signed in Egypt will enable Dufry to grow its Egyptian travel retailing operations. The Honduras contract allows Dufry to operate a duty-free shop in the new seaport of Roatan, adding a promising location to Dufry's network and reinforcing its leading position in the Caribbean market. Dufry expects these expansions to enhance sales and earnings in 2010 already.

Egypt – new airports and additional duty free locations:
The contracts won in Egypt add two new locations and further expand Dufry's business in a country where it has operated successfully as a travel retailer for some years. The company has signed two five-year contracts to operate four duty-free shops in Assyut and Borg El Arab with a total retail space of 958 sqm. Both locations will have an arrival and a departure store, each offering the full assortment of duty-free products, from perfumes and cosmetics to accessories, luxury fashion, watches and jewelry.

Honduras – entering a new market:
In Honduras, Dufry has concluded a ten-year agreement to operate a 673 sqm duty-free shop in the new seaport of Roatan, an island located in Honduras Bay. The contract marks Dufry's entry into the Honduran travel retail market and reinforces its leading position in the Caribbean. The shop will offer a full assortment of duty-free products, including perfumes and cosmetics to liquor and confectionery. Roatan, which is located near the largest barrier reef in the Caribbean, has become a popular destination for scuba divers and cruise ships. Its seaport services about half a million passengers per year.

France:
In France, Dufry has signed two contracts to operate shops in Nice. The first contract is a six-year agreement to operate three fashion shops at Nice airport. Two will be located in the post-security area and one in the pre-security area. The total retail space will be 483 sqm and will include branded shops such as Hermes, Armani, Hugo Boss and Celio.

USA –renewals and expansions:
Dufry is expanding its concession portfolio in the United States through its Hudson Group subsidiary. It is leveraging its successful Hudson News concept in five locations and complementing this with specialty store concepts that combine the Hudson Group's market presence with Dufry's travel retail expertise. The new contracts further strengthen Hudson Group's existing presence at Boston, Miami, San Francisco, Newark and Omaha airports.