11th Dongguan China Shoes - China Shoetec & China Bags in May 2010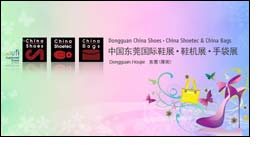 The annual production volume of China bags and suitcases account for 50% of the total world's output, while its export value reaches one-third of the world's total, many overseas buyers come to China for bags sourcing every year. Nowadays, people pursue fashion and trend, stylish matching of clothing and accessories become more important. To cope with the needs of consumers, many international fashion brands tend to launch the same series of footwear and bags for easy matching.In line with the market demand, Dongguan China Shoes & China Bags serve as a one-stop sourcing platform for middle-to-high end shoes and bags.

Bring More Convenience to Buyers by Providing One-Stop Sourcing Platform for Shoes and Bags
The 11th Dongguan China Shoes & China Shoetec & China Bags (Spring 2010) will be staged at GD Modern International Exhibition Center, Houjie, Dongguan, P.R. China from May 4 to May 6, 2010, same period with Canton Fair (shoes and bags section). Dongguan China Shoes?China Shoetec has been organizing for 10 editions and is highly recognized by the exhibitors and buyers. With the success of past editions, China Bags will be held concurrently with China Shoes. China Shoetec starting from next year. According to the survey conducted in last edition regarding buyers' purchasing practice, more than 3,000 buyers have the need to purchase both shoes and bags at one time. China Bags will thus provide a specialized business platform for the suppliers and buyers from worldwide.

"Brand Shoes and Bags Gallery" Helps to Strengthen Brand Positioning
Develop Chinese domestic market and establish own brands are the key business development direction for enterprises in China. In response to the market need, "Brand Shoes Gallery" was firstly launched in last edition, which displayed the renowned brands and featured products of exhibitors. With the intensive promotion campaign and extensive media coverage, "Brand Shoes Gallery" received overwhelming response from the industry. Qisheng Shoes Co., Ltd. showcased their men's series "Tibao Aucheho" in the gallery, which helped to strengthen their brand positioning and reach more potential buyers, and to increase their brand awareness in the market. To further enhance the concept of shoes and bags matching, brand shoes and bags will be showcased together in the brand gallery at coming show.

Concurrent Activities to Preview the Market Trend
Fashion show will demonstrate the latest footwear and bags trend and provide another platform for exhibitors to showcase their design and brands.Besides, overseas and local experts of the industry will be invited to give speeches on the latest hot topics, discuss and share their experience with the audiences.

Moreover, organizers will cooperate with shoes and bags design associations in Hong Kong and China in order to keep the industrial players abreast of the latest fashion trend and deliver the creative design concept by demonstrating the latest design of the contemporary designers.