Ladies fashion sees increase of 36% in 2009 at DDF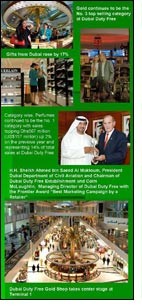 In a year that posed many challenges for the global airport retail sector, Dubai Duty Free has bucked the trend by announcing record annual sales of Dhs4.1 billion (US$1.140 billion) for 2009, representing a 3.76% increase over the previous year.

Commenting on the annual sales, H.H. Sheikh Ahmed bin Saeed Al Maktoum, President Dubai Department of Civil Aviation and Chairman of Dubai Duty Free Establishment said: "Dubai Duty Free, like most businesses, felt the impact of the global recession particularly in the early part of the year. However, I am delighted that the operation has successfully turned sales around in the second half and that a new annual record has been achieved. Congratulations to the management and staff on their success in 2009."

December itself was a record month with sales reaching a new monthly high of Dhs441 million (US$122 million), which represents a 9% increase over December 2008. Meanwhile on December 20th, the day in which Dubai Duty Free celebrated its 26th Anniversary with a special discount offer, daily sales reached Dhs62.5 million (US$17.3 million).

Commenting on the end of a memorable year, Colm McLoughlin, Managing Director of Dubai Duty Free said: "Without doubt, 2009 will be remembered as a year of challenges. I am pleased that as a retail operation we reacted quickly to those challenges and worked closely with our suppliers and staff on a number of initiatives.

"I am particularly grateful for the support, as always, of H.H. Sheikh Ahmed bin Saeed Al Maktoum, President Dubai Department of Civil Aviation and Chairman of Dubai Duty Free Establishment and I join His Highness is thanking our entire team of staff at Dubai Duty Free who do a great job throughout the year," added McLoughlin.

In 2009, Dubai Duty Free recorded over 20.3 million sales transactions with an average of 55,800 sales transactions per day.

Category wise, Perfumes continued to be the No. 1 category with sales topping Dhs567 million (US$157 million) up 2% on the previous year and representing 14% of total sales at Dubai Duty Free. Liquor and Gold remained as the No. 2 and No. 3 category respectively. The Tobacco category increased by 15% to become the No. 4 selling category and Confectionary sales rose by 11% to take the No. 5 position.

Other steep increases were seen in the Gifts from Dubai category which rose by 17% while Sunglasses rose by 19% and Precious Jewellery by 20%. Continuing with the Fashion theme, Ladies Fashion saw an increase of 36% in 2009, which is no doubt attributed to the extended Fashion offer available following the opening of Emirates Terminal 3 in late 2008.

2009 was also the Year in which Dubai Duty Free was announced as the biggest single airport retail operation in the world based on sales analysis issued by Generation Research. The announcement, which was made in June 2009, places Dubai Duty Free just ahead of sales at London Heathrow andSeoul Incheon Airports for the first time.