A pioneering spirit; natural luxury for Zegna man's winter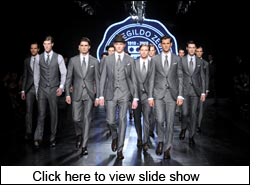 The Centennial year of Zegna is celebrated with a collection embodying the profound relationship between Man and Nature, coupled with the appreciation for progress. A contemporary vision and adventure to conquer the world, whose roots grew in severe valleys with snow-capped mountains and heralded new challenges.

Colours are interpreted in biographical terms: shades of blue stand for the clear skies and ice-cold mountain streams, green shades of pristine forests and grey shades of mountain stones.

Monochromatic colours as strong statements. This is about real men, gentlemen wearing flannel reinterpreted with luxury yarns, or comfortable loden overcoats and jackets with ten pockets. A mix of materials follows, including cashmere, beautiful 'Cashco' velvets, microfibres, sheepskin and shearling coats.

Suits are designed to highlight the body shape. Jackets are constructed to make a man look glamorous and trousers have stitched front-creases. A sporting and nonchalant look is created through the mixing of different garments, like the new hybrid jackets, or fabrics combined with precious tanned hides, ponchos, denims, renewed 'Elements' jackets, and elaborate natural-dye cashmere sweaters from the exclusive 'Oasi Cashmere' concept. Tradition blended with innovation and reaching the epitome of beauty with the 'Duo' fabrics with their typically stylish patterns coupled with their super-lightweight and knit-and-fabric mix. The outcome is a collection of garments with a naturally relaxed lived look through dye and delavé processes that make each piece unique.

A sophisticated elegance whose outcome is a seemingly informal look. Zegna's long-celebrated sartorial skills help a busy gentleman to be impeccably dressed without complications: shirts are often replaced – evening included – by polo-necks with knit collars and cuffs to be worn with 'Duo' wooland-silk ties.

For more formal occasions the Zegna man wears passepartout tuxedos in either blue or black flannel, rich in sophisticated details as well as smashingly elegant duvet-filled jackets in silk grosgrain and fur details.

As each conquest requires endurance and flexibility, the accessory of choice must be a supersoft holdall in deer-skin, as well as sturdy leather-and-fabric shoes with an unprecedented balance between imposing shapes and lightweights. Accessories as always provide the absolute complete touch.

Celebrating Zegna's centennial is more than just a celebration of an acclaimed brand. The accomplishments reached so far recount the story of the intents consistently turned into goals by this one family. Excellence in all its facets has been the family's topmost endeavour for 100 years. The vision of the founder Ermenegildo Zegna, a pioneer in textile technology and philanthropy, paved the road that four generations later has made Zegna a leading global luxury brand.

Indeed, the family roots have been taken as the inspirationfor the unique wardrobe made from fabric N.1 whose pattern was jotted down on his notebook by Ermenegildo Zegna himself in 1910. What used to be a heavy woollen fabric has now been reproduced by Zegna in super-fine wool for the turbulently exacting gentleman of the third millennium.