Colorful spring collection by Levi's X Opening Ceremony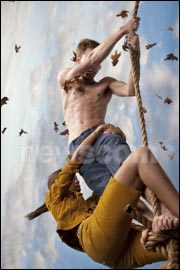 Celebrated American icons Opening Ceremony and the Levi's brand announce a new partnership marrying Levi's pioneering spirit with Opening Ceremony's unique, creative design aesthetic. Beginning this spring 2010, Opening Ceremony and the Levi's brand will introduce new seasonal co-branded collections rooted in classic Levi's styles and updated with progressive fabrics, washes, details and twists.

Levi's Cords by Opening Ceremony, the spring 2010 collection by Levi's x Opening Ceremony, is made and produced in the U.S.A. and celebrates the craftsmanship, detail and ease of the ever-popular Levi's cords. The collection takes a modern twist on the iconic Levi's 505 jean by updating it in buttery-soft corduroy in a rainbow of colors including teal, fuchsia, lavender, olive, curry, navy and optical white.

Featuring a fit reminiscent of the 1980's slim leg 505 jean, these unisex cords offer a new and interesting reinterpretation of a favorite Levi's vintage fit. Other "new classic" corduroy pieces featured in the collection include unisex cut-off shorts, a unisex button-down shirt and Levi's trucker jackets in silhouettes for both men and women.

Inspiration for the first Levi's x Opening Ceremony collection and color story comes from the habitual spring migration of New Yorkers to the scenic upstate countryside.

Spring road trips in New York call for well-worn corduroy pants, layered tops and fitted cord jackets in saturated pastels, while colorful cord cut-offs are perfect for summertime escapes.

Levi's Cords by Opening Ceremony will launch in Opening Ceremony retail stores in New York, Los Angeles and Tokyo next month. Mirroring Opening Ceremony's unique branded boutique shopping concept, the collection will be available in a special shop-in-shop installation at the Levi's flagship store in San Francisco.

For a limited time, the San Francisco Levi's store in Union Square will transform its first floor into a special, home-away-from-home Opening Ceremony boutique. The pop-up shop will house the Levi's Cords by Opening Ceremony collection, along with select Opening Ceremony collection staples. The Levi's brand will also create an online home for the collaboration at www.levi.com, where the full collection will be available.

"When you think American heritage, Levi's is the first brand that comes to mind," says Opening Ceremony's co-founder, Humberto Leon. "The brand evokes both a sense of history and of nostalgia but above all else, is a timeless classic. We decided to celebrate Levi's by launching this fun corduroy collection because corduroy is a fundamental part of the DNA of the Levi's brand.Inspired by trips upstate, swimming in waterholes, and cutting off those spring corduroys into the perfect summer short, our collection with Levi's focuses on key corduroy pieces that speak to the company's rich history."

To celebrate the launch of the collection, world renowned photographer Ryan McGinley – a frequent collaborator of Opening Ceremony and the Levi's brand – will create visuals exploring a dynamic study of movement and color. McGinley's imagery will embody the youthful energy and purposeful, pioneering spirit of the collection. The Levi's brand and Opening Ceremony will also hold intimate launch events focused on this theme in New York City and San Francisco later this spring to introduce Levi's Cords by Opening Ceremony.